Xtreme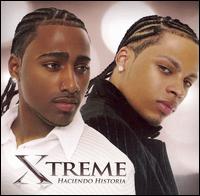 Fusing their passion for the "tipico" bachata sounds of Santo Domingo with the contemporary R&B and urban sounds they grew up listening to on the streets of New York, XTREME is making it clear that they are Haciendo Historia. Both raised by immigrant Dominican parents, Danny D, 21, was born and grew up in the Bronx, and Steve Styles, 21, was born in uptown Manhattan before moving to the Bronx. Always living both urban and Latin culture, they felt motivated to mesh the romantic beats that American Latinos were listening to with the traditional love songs of their parents' madre patria.

Created and formed in 2003, XTREME began with only Danny D at the young age of 17 because of his tremendous talent and passion for music. After countless auditions and practices, Steve Styles joined in February of 2004 to complete the duo. After riding the waves of success of their first hit, "Te Extra..o," XTREME is back with a vengeance with the follow-up to their self-titled debut album. Their latest effort, Haciendo Historia, executive produced by 7-time GRAMMY WINNER Sergio George and produced and written by Steve and Danny, was recently nominated for BILLBOARD LATINO "Tropical Album of the Year." In 2006, XTREME was awarded Best New Group at the Premio Lo Nuestro Awards.

Their latest effort finds the duo with a more mature, thoughtful sound. "Just like our fan base, we are constantly evolving, incorporating new sounds and hot concepts into our music", says Danny D. "We write for our fans everywhere." Their new album features 13 original songs, including their BILLBOARD chart-topping single "Shorty, Shorty" The dynamic duo was involved in all stages of production, giving the album a more personal touch that's true to their reality. "It was important to our growth that we take a more proactive role in this production," says Steve Styles. "We paid attention to every detail of the production and even developed our own unique guitar sound, paving the way for a new bachata sound." XTREME thrives between their two cultures, exploring mainstream U.S. pop while staying true to their Dominican roots.

All the while, they cling to the ideals and work ethic that have brought them from the streets of New York to households across the United States and worldwide. Haciendo Historia demonstrates that Danny D and Steve Styles are in a unique class – the kind that makes history.

---