Wynter Gordon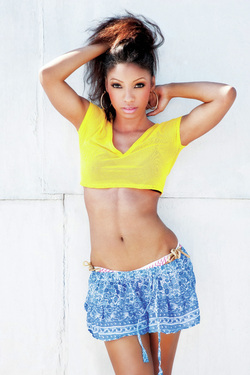 With an ethereal voice and playful personality, singer/songwriter Wynter Gordon is giving dancefloor divas and music heads alike a new reason to Believe. The single "Dirty Talk" from her forthcoming debut album, With The Music I Die, has already topped Billboard's "Dance Club Play Songs" chart at #1, while her Freemasons-produced "Believer" also climbs steadily on the UK charts. Prepare for a major Wynter storm this year.

For the past two years, Wynter has tirelessly traveled the globe, collaborating with some of the biggest names in electronic music and picking up a few tricks along the way. She's stepped into the studio with David Guetta and Rhythm Masters, performed in front of thousands at the Winter Music Conference. All of these incredible experiences have gone into the making of her debut. As Wynter explains, "I'm not the same girl anymore. I'm more confident. I'm more me." Her songs reflect this new self-confidence—she and her collaborators have given themselves license to play, reveling in a new sound that is a blend of European house, bold beats, and purely emotive songwriting. "I feel so comfortable with myself now. I'm really in that place where I've just let go.

As Wynter's world has blown wide open over the past couple years, she is similarly inspiring those around her. "I still remember the first time Wynter sang for me," recalls James Wiltshire of UK production duo Freemasons (Shakira, Beyonce), who crafted "Believer" with Wynter. "I was still setting levels, but I had to really rush as everything she sang was just incredible. Goosebumps everywhere! Half the lead vocal on 'Believer' is the very first take. She is an amazing singer."

"Believer" has a deep message at its heart, explains Wynter, "but it's still dance music. I think that's what was missing in dance. There was no real emotion or personality to it, and that's what I bring." It's a natural fit for a singer who grew up listening to the big voices of Whitney, Celine, and Mariah (and penned hits for Mary J. Blige, Danity Kane & Jennifer Lopez). Even her single "Dirty Talk" has a sincere sense of fantasy, revealing a young woman experimenting with different sides of herself.

Life these days is a living fantasy. As she's bounced from Ibiza to Amsterdam, London to Paris, Wynter explains that she fell in love with "the energy in Europe. I picked up a little of the culture from everywhere I've been." For a girl from South Jamaica, Queens, who was raised in a two-room house with "my mother and six brothers and sisters," she's aware of how far she has come. Her childhood was difficult, shaped by poverty and a largely absent father. "My only escape was art," she remembers. As a teenager, she was accepted to the famous LaGuardia High School for the Performing Arts (known as the Fame school). There, her natural talent was nurtured. "You could really be yourself and focus on your talent," remembers Wynter.

After high school, when most of her peers were off to college, Wynter threw herself fully into realizing her music dreams, even as she dealt with surviving on her own for the first time. She juggled several jobs while working in the studio at night. It was some time before she landed her first big break: penning "The Breakthrough" for Mary J. Blige. The legendary singer was so moved by the song, she named her 2005 album after it, a vote of confidence that Wynter still remembers with awe. "My whole life, I've been the underdog, and it's just magic."

Today, the singer/songwriter loves to play with "retro" vintage styles as much as she does with a mixer, and admits she also has a burning desire to someday be a comedic actress. For now, she's making a big impact on everyone she shares a studio with. "I really love Wynter," says Dutch DJ/producer Laid Back Luke, who crafted a full-throttle remix of "Dirty Talk". "She is such a humble, down-to-earth, hardworking girl, and not to mention a fantastic singer and performer! If anyone's worthy of superstardom, it's her!"

As she prepares to reveal With The Music I Die to the world, Wynter hopes that she moves people to "feel my artistry and feel that I'm a real person." The songs document the incredible journey of one girl, both around the world and within herself. Coming to a place of ultimate freedom, where both trials and triumphs are released on the dance floor. The title, explains Wynter, is less about a death than it is about a rebirth. "Music lives on forever," she says. "So I'll always be around.

---