Veronica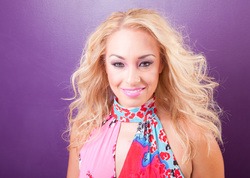 A native from the Bronx, Veronica's career in the arts spans over 20 years. She's a Recording Artist, Songwriter, Actor, Director, and Autism Advocate. As a recording artist, she was one of the first Latinas to break into the R&B/Urban scene with her album, "Rise". She signed with award-winning producer, Jellybean Benitez at H.O.L.A Records and charted 2 #1 spots on Billboard's Hot Dance Music chart with "Release Me.... Let Me Go" and "Someone to Hold". She was cast as the lead for the National Tour of "Selena: A Celebration of Life", by Academy Award winning choreographer Kenny Ortega. She starred in the hit off-Broadway production of "Latin Heat" and lent her talents for several years to the show that would go on to become the Tony-Winning production, "In the Heights".

​Veronica has developed a huge following in the gay community, which she is proud of. To receive so much love from the gay community makes her feel so relevant and grateful. The LBGT community has kept her music alive through the years. She Is still touring today with music from 10 years ago!
When she first heard the demo for her new single "Outta Control" which was written by Tamara Wallace, she knew all of her fans would embrace it and jumped right into the studio. "Outta Control is so refreshing. I can hear it playing on radio as well as big room clubs all around the world" says Veronica.

Today, Veronica continues to work on new music and has enjoyed teaching and directing musicals at the Boys and Girls Club where she got her start. She's given voices to the Muppets on Sesame Street and characters on The Electric Company, her husband Christopher Jackson (actor and co-star of the Broadway musical "Hamilton" and new CBS TV series "Bull") also writes music for both shows. "I get to sing with Elmo, how cool is that?" Veronica feels very blessed to be a wife and mother to her special family.

---