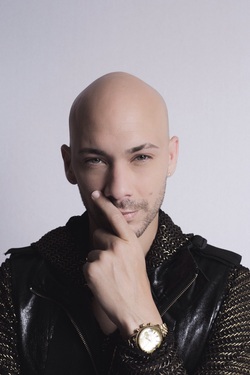 Antonio Luis Maldonado Acosta was born on April 2nd 1980 in Rio Piedras Puerto Rico. Antonio, better known as "TL", is an ever evolving artist dedicated to the
urban/alternative genre.

From a young age TL has indulged in a very active lifestyle. With great interest in the music industry he found himself motivated into pursuing singing and piano lessons. During his teenage years not only was he involved in many music programs he was also very involved in the sports community where he partook in swimming and water polo teams where he represented Puerto Rico in the Central American Games. He also
participated in the NCAA Final Tour among-st other activities. Despite his passion towards music, he achieved a higher education by earning a Bachelor's Degree from
the University of Massachusetts, where he met the person who would inspire the beginning of his music career, the legendary Ruben Blades.

In the year 2005 he began his career under the record label "White Lion Records" with the help of it's president Elias Leon and Carlos Rosario, being part of the
production titled "Reggaeton Rulers" with the song "Me Gustas Tu". In 2008 he became well known by being part of the album "Rompecorazones" with the song "Descontrol". With great results, he collaborates with Arcangel, and the duo JKing & Maximan, raising him to local and international success. With more than 50 million views on YouTube, this also opened the path for his first performance ever in Colombia. His promotional cut, "Ella le dijo no al Amor" was among the top charts in local radio stations and streamed through out local music channels along with MTV 3 in the US.

In 2011, he makes a comeback with the single titled "Quien le va a Decir al Corazon," a romantic song to which not only took over local radio but foreign radio stations as well from countries such as: Peru, Panama, Chile and all of Latin America. This same year, in collaboration with "Arcangel" he debuts his second single "Tu Conmigo", this being a complete triumph through all of Latin America, taking the first
positions within the charts for more than 6 months with more than 55 million views on YouTube. It was then when Colombia became a major milestone in his career with a successful tour along the country.

His passion and dedication towards the art, leads him to compose romantic songs which captivated the hearts and admiration's of the fans. Staying true to himself and focused on his goals, he launches his first album under the newest record label of the Baseball super star Yadiel Molina. The album contained collaborations with many great artist to an international level, making this a successful production. "Hay party" was another one of his many successes, debuting on the year 2013, reaching more than 100,000 downloads in only two weeks. "Pa' Lante", debuted on 2014 in Puerto Rico and United States being greatly welcomed by the fans, making great strides internationally.

Starting the year, 2016, with the release of his new single "Por Ti." which has been debuted on "La Jungla" with "El Coyote", it's already in projection to becoming a very successful number. This song will be part of his newest album titled "En La Lenta". Current production for his new lyric video is in the works along with the filming of the music video where content will be produced by Charlie Toro, president of Coexistence
Records. This project will be managed and distributed by Coexistence Records/ Team TL to which this company bets on the success of the artist since it has developed other brands such as "Zion & Lennox" and "Alexis & Fido". For the first time working with TL ,an artist with experience, maturity, and a capacity of international projection, the organization is envisioning and preparing for a cross over to the North American market in the near future.
---