Tiffany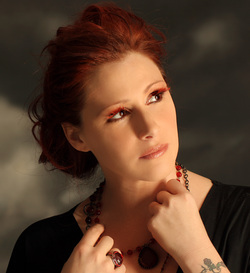 Pop icon, Tiffany, has again been stirring things up. The "I Think We're Alone Now" Girl has been very busy in her new "role" starring in VH1's Celebrity Fit Club, which begins airing April 22nd and will air 10 times a week for 3 months.

Needless to say this has gathered her an avalanche of press from radio to the Tyra Banks show to Entertainment Tonight and the Insider TV show.

Marking the 20th anniversary of her chart-topping debut, she is currently getting ready to release her new album with her new label 10 Spot Records. This new album, "Just Me," (out everywhere on June 5th) delivers a blend of pop and rock in a singer-songwriter style with a little country thrown into the mix. Of coarse dance mixes will be serviced to all the clubs of her new songs as well.

The first single "Feels Like Love" and video for this up-tempo smash hit goes to radio and all the video channels in mid May.

Tiffany began her career at the age of 13 when she signed her first recording contract with MCA. The self-titled debut album was released in 1987 and eventually went quadruple platinum. The innovative "Mall Tour" that followed proved to be the signature for Tiffany's early career and was very effective in targeting her core audience of young teens making Tiffany the youngest female artist to debut at number one on the Billboard charts.

Tiffanyproduced three top ten hits, two of which were national and international #1 pop singles "Could've Been" and the celebrated "I Think We're Alone Now." The soon-to-be teen pop phenomenon, New Kids on the Block, got their big break as the opening act for her world tour. Tiffany released her second album, Hold An Old Friend's Hand, which went double platinum and featured the top ten hit "All This Time." In addition to her ground breaking successful music career, Tiffany had the opportunity to be the voice of Judy Jetson in the feature version of the popular cartoon series, The Jetsons.

During the '90s, Tiffany released two more albums, New Inside and Dreams Never Die (released exclusively in Asia). To start off the new Millennium, she introduced what became known as her "comeback" album, The Color of Silencewith stellar critical reviews including from Billboard: "The Color of Silence is one of the finest pop albums of 2000."

In 2005 she independently released the club sensation, Dust Off and Dance, which spanned several dance-club hit's (namely, B With You Tonight and Fly) that her fans demand she perform in her "club show".

Tiffany makes her home in Los Angeles with her husband of three years, her son Elijah, three dogs, two turtles and five fish.

She also enjoys cooking and preparing fine cuisine for her friends and family. When she's not busy with her rigorous workout routine, she's a self-admitted designer shopaholic.
---