Therese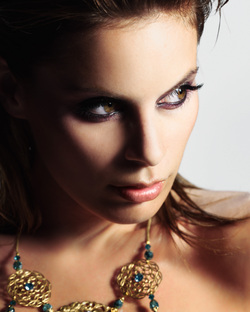 Internationally acclaimed Swedish DJ and producer Stonebridge remixed Therese's first solo single, "Monkey" and later invited her to collaborate his album "Cant Get Enough" resulting in two hits, "Put Em High" and "Take Me Away"

As well as working with Stonebridge and under her own name on the sexy, driving house track "Time" Therese was called on to co-write and sing backup vocals on Dannii Minogues' recent single "Perfection", which reached number 11 in the UK.

Other recent highlights in Therese's pop career, include her headlining the main stage at the 2006 Australian Mardi Gras event.

She was also called upon by The Attic, to feature on their track "The Arrival", which went on to become an entry for the 2007 Swedish Melodifestival & became a club & pop hit over there too. However, it was to be Therese's duet with Danny "If Only You", that would take her back into the top 5 of the Swedish pop chart later in 2007, the track in fact went on to go Gold in sales.

Therese has been working intensely for over a year now on her new album, which will be more of a pop than purely dance affair. "Expect some familiar floor fillers, explosiveness, nice vocals, a bit of electro stuff, melodic and 80 influences of course"

Watch out in the UK for the The Mac Project Feat. Therese up & coming release "Another Love"
---