Stacy Fuson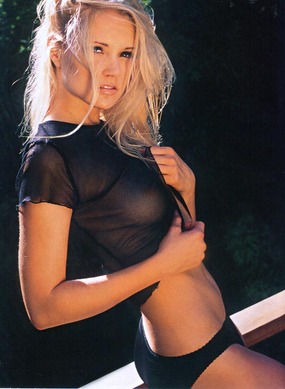 Tall (5' 9"), busty, and shapely blonde bombshell Stacy Marie Fuson was born on August 30, 1978 in Tacoma, Washington. She has an older brother named Doug. Fuson played baseball, bowling, and volleyball growing up as a kid.

Stacy stopped participating in sports in her freshman year of high school and starting focusing more on modeling (she was featured in the "Teen" Great Model Search in the magazine's October, 1993 issue). After graduating from high school in 1996, Fuson moved to Los Angeles, California at age eighteen to further pursue her modeling career and worked at the Limited.

She graced the cover of the October, 1997 issue of "Playboy" and was the Playmate of the Month for the February, 1999 issue of "Playboy." Stacy has appeared in many "Playboy" videos and posed for several newsstand special editions. Moreover, Fuson has had guest roles on episodes of such TV series as "Entourage" and "Modern Family." Among the movies she has acted in are "The Independent," "Shallow Hal," and "Room 6." Stacy was the 2005 St. Pauli Girl. She's a news anchor for FoxxyNews.com. Fuson lives in Los Angeles, California.

---