Sequal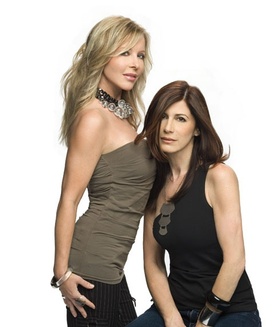 Sequal was put together in 1984 by producer Lewis Martineé, creator and producer of the group Exposé.

Sequal is made up of two talented women, Maria
Christensen & Angie Vollaro - both of whom possess strong sultry voices and bring to the stage a commanding live performance.

Their first single was the huge 1985 club classic and radio hit "It's Not Too Late", one of the first Freestyle/Miami records to carry that unique sound that was again heard on so many other productions that followed.

"It's Not Too Late" was cultivated first in NYC's clubs.

Although hailing from Miami, Sequal made a lot of noise in NYC, Los Angeles, and Texas, and their live shows were met by incredibly enthusiastic crowds all over the country.

They later worked with other hot Freestyle & Dance producers such as 'Little' Louie Vega, Michael Morejon, Mantronik and Danny Tenaglia; and were eventually signed by Capitol Records in 1988, teaming with such producers as Stock Aiken & Waterman, where they released the hit songs "She Don't Want You" and the bass pumping top ten dance hit "I'm Over You".

The album was very versatile with Freestyle, Pop and R&B.

Some of their classic singles can be heard on various compilations, and are still played on Classic Freestyle radio stations to this day.

Angie has lent her voice recording backgrounds for the #1 Billboard charting hit "Seasons Change" with Exposé as well as for other songs with artists such as Genuine Parts and Olga. Later she went on tour
singing back up for fellow Freestyle artist Nancy Martinez.

Maria went on to work with Grammy award winning producer Ric Wake of Taylor Dane fame and released her solo album on Atlantic Records in the late 90's. She later became the lead singer of the female Dance trio 3rd Party, who released a top-40 pop dance song called "Can You Feel It", and appeared on national television shows such as VH-1's The RuPaul Show, Live with Regis and Kathy Lee and The Today Show.

Maria is still active with her music and other projects. She is an accomplished songwriter, having written for artists such as Celine Dion, N'SYNC and Ricky Martin, and penned the hit song "Waiting For Tonight" for Jennifer Lopez.

Sequal definitely made their mark in Freestyle/Dance music history, and they are not forgotten, as many requests have come in from fans of all ages wanting to see Sequal sing and perform again.

---