Sean Kingston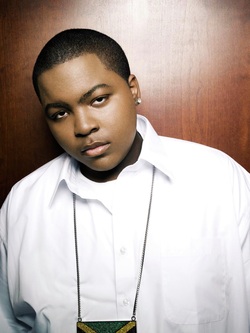 Sean Kingston, a 17 year old native of Jamaica, is not just a new face in popular music; he's accomplished the rare task of creating a new genre where rap, reggae, dancehall, pop, a touch of doo-wop and remarkable songwriting all combine into something totally fresh. Add in Sean's family roots which cite Jamaican legendary producer Jack Ruby as his grandfather and reggae king Buju Banton as a close family friend and you have one of the most exciting debuts this year. And while hip-hop lyrics have sparked the biggest debate in years, Sean finds himself in the center of the controversy - but not where you might think. The teen prefers to show his creativity without using profanity.

It's no wonder then that Sean is quickly becoming a household name with his first single "Beautiful Girls," a song cross-pollinating on both urban and pop radio stations coast to coast. The unmistakable hit boasts the instant hook of "Stand by Me" which acts like a muse for the song produced by savant J.R. Rotem. Sean is the first signing on J.R.'s label Beluga Heights and his debut album Sean Kingston is due out on July 31 on Beluga Heights/Epic.

"I heard the track 'Stand by Me,' one night in the studio, the radio was on. I asked J.R., did anybody ever use this sample? He made the beat right there on the spot and I wrote the words down while he played it back to me. I loved the way it turned out and I think my sound is a lot different than what else is out there. It all just worked and we knew we had something special with the track. I'm also singing about something people can relate - being in love and this other person who you think is your world tells you they want to end the relationship."

Kingston wants to make it clear that he is no cookie cutter artist that has the songs laid out for him. He comes up with 100 percent of his lyrics. Sean also understands that at 17 years old and making urban music he has a responsibility to fans, "With this album I thought it was important to not use curse words or negative slang that might offend people. I write my own songs so it's like if I can write a great track without using those words than that's the style for me." Sean continues, "As an artist, my whole goal is to make powerful and classic album. I want everyone to feel my music and understand my heritage and that's what this album will do. The music is all about the authentic Sean Kingston vibe. JR is a talented dude and a dope producer and he saw that I had something different to offer from other artists out there. Together we're a powerful force and I'm ready to share it with the world."

Sean talks about J.R. more like a big brother, rather than an Executive Producer of his album. Couple of years ago, Kingston started randomly hitting music industry contacts on MySpace. Although none of the A&R reps responded, Rotem emailed him back. J.R. almost had no choice. "Sean would hit me up at least three times a day!" J.R. says.

"He had a real distinct sound," Rotem remembers. "I worked with some of the best and I don't see why Sean can't grow to be one of them. His potential is limitless."

Rotem invited Sean for a meeting in Los Angeles; coincidentally the young performer was already in the process of moving to California. Shortly after their initial meeting, Rotem had a flagship artist for his Epic records joint venture, Beluga Heights. For Sean, it was almost like a prophecy beginning to be fulfilled. Not only is music his love, it is in his blood. Now Kingston says he's looking forward to making music and living out his dream.

Producers Cool and Dre, DJ Khaled, The Runners and DJ Felli Fel will also be supplying beats to Sean's album. In just a short time, Kingston has already done what few in his age bracket can accomplish - solidify a following in the streets and get people excited about music again.

In addition to his hit single, Sean has two certified hip-hop knockers on his hands with "Colors 2007" and the reggae remix of "Colors." The original version is a lyrical brouhaha with Kingston showing he can hang with the acclaimed guest MCs - Miami Mayor Rick Ross and the multi-platinum west coast superstar, The Game. The reggae remix of "Colors 2007" is a Caribbean hailstorm featuring the legendary Vybez Cartel and the always profound Kardinal Offishall. Both records maintain the same theme of unity and self-reflection.

"Unity and representation is where Colors came from," Kingston elaborated. "The song is about representing whatever flag that you're loyal to - whether it is Jamaica, the States, your block etc. It's a lifestyle record that can be a street anthem no matter where you're from and where you at now. I couldn't ask for anybody better than The Game and Ross to join me on the track. The reggae version came up because I knew I had to do one special for my native Jamaica. The first person I thought of was Vybez Cartel. His verse came out crazy. Then Kardinal, that's my homie, really attacked the track."

Kingston's album is shaping up to be as diverse as the colors that are on the different flags he talks about.

"Drumma Boy" finds Kingston sticking mainly to rapping over the trouncing pounce of drums, while "Can You Feel It" takes it to the party and incorporates a sample of Phil Collins' timeless "In the Air Tonight."

Perhaps one of the most eye opening tracks however may the song "Prosecutor," where Kingston vents about what he calls the wrongful imprisonment of his sister and mother. "You're lying and there's no way to prove it," he fumes on the track.

Sean says he was inspired to write the record after he saw his family incarcerated when he was just 14 years old. "I always had my sister and my brother," he began to explain. "My brother was there but he was running around doing his own thing most of the time. When my mother and sister went away, it took a lot out of me. My sister went away for four months and my mom has been away for over a year. When she went away, I was like 'nah man, this is too much.' I was only 14. I missed her like crazy but I pulled through and used it as my motivation. "Prosecutor" is a defining song on the album for me because it touches on something that's very personal to me. The dope melody that's on there makes me feel even closer to it." "In the future I want to have my own label and work on the business side," he said. "I went to acting school when I was younger, so I want to get into that. I want to get into every aspect of the business. It took me a little while to develop and build my sound, to find out who the real Sean Kingston was. I didn't know if I wanted to harmonize, or to rap. But I found out that I can do it all."

---