Savanna Samson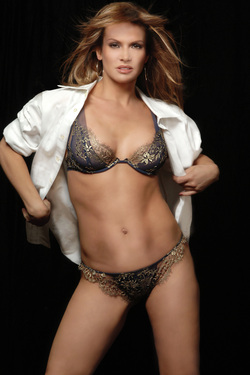 She's blond and tan with full lips and long legs, an unmistakable smoldering sexuality emanates from her very being. That's where Savanna's resemblance to the "typical" adult film star ends…. "No Spin Zone, Bill O'Reilly

Savanna and her four sisters grew up in Watertown, an enclave in northern New York. She left her clan of beauties behind and moved to New York City to train as a classical ballet dancer. One thing led to another and her free spirit and love for performing found her way to Scores where her career in the adult industry began. Savanna's journey is a story of a small town girl who has grown into a woman of the world embracing her sensuality and sexuality.

She has reached the height of stardom in the Adult Film Industry, winning multiple AVN awards. She was chosen as Hostess for the 2005 AVN award show, where not to be outdone, won two awards, including "Best Actress" for her role in the Vivid blockbuster "The New Devil in Miss Jones".

Savanna has been named one of New York's "Most Interesting People". She has appeared regularly on the Howard Stern Show, and also has been interviewed by Hannity and Colmes, MSNBC, CNBC, Bill O'Reilly, Danny Deutsch, Tyra Banks and has appeared in skits on SNL, Late Night with David Letterman, Comedy Central and The Daily Show. She has even spoken at length about Opera on New York Public Radio. She is a published writer and has had a column on a variety of subjects for Men's Fitness magazine and Friend Finder.com.

Savanna's business ventures continue to expand at an exponential pace. She has a long-term contract with Vivid Entertainment, making adult films, and recently opened her own production company to produce and star in her own feature films. Savanna's first feature produced by SSP Interactive is entitled "Any Way You Want Me".

In 2005 Savanna launched her wine business. Her first wine, Sogno Uno, an Italian red, gained critical acclaim and received a rating of 91 from Robert Parker. In June of 2006, Savanna released her white wine, Sogno Due and her newest red, Sogno Tre was given a rating of 92 points. Next, she is developing a blend for champagne which will be released for the Holidays.

Over the course of the years, Savanna has been interviewed virtually non-stop on the subject of her wines and sexual prowess. Vanity Fair Italy, Zieben TV Germany, SKY TV Europe and Maxim Italy have been amongst the many to cover her many achievements.

Savanna has also branched out into the world of music signing an exclusive recording contract with Koch Records in New York. Her first dance single, Possession, is now available on iTunes and she releases her music video and the entire album in 2009.
---