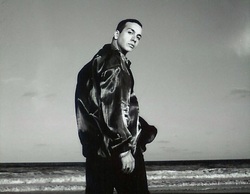 Sam Savon is a born and raised New Yorker of Puerto Rican descent. Sam began his early career when he signed with New York recording label Cutting Records in 1989. There Sam released his anthem to this day "Open Your Eyes" featuring background vocals by Safire. "Open Your Eyes" propelled Sam into a career of epic proportions world wide, particularly in Brazil where "Open Your Eyes" inspired a dance craze called Danzata and to this day is still one of the most played and requested songs.

Sam Savon is no stranger to hit singles, "My Heart Alone," produced by Albert Cabrera of the Latin Rascals was one of the most requested records at New York's leading radio station Hot 97 and reached Top 10 in their sales charts. Other hot selling songs include "Catch & Kiss," "You Are the One," "Free," "Don't Set Me Free" and his duet with Judy Torres "Reach Out to Love."

Sam Savon has been collaborating with Albert Cabrera for the past two decades. Cabrera's list of collaborators include the Rolling Stones, Madonna, Aretha Franklin, Mariah Carey and George Michael to name a few. Savon and Cabrera's last collaboration would be their first National UK Top 40 titled "Just Me & You" under Sam's moniker New Vision. "Just Me & You" was signed to Strictly Rhythm stateside and was licensed to over 30 labels world wide including Universal/AMPM in the UK, SONY in France, Polygram in Germany and Blanco y Negro in Spain.

Sam Savon has also appeared on many compilations most notably "Dance Trip 2000" for which he wrote four songs, "Runaway" by Lil Suzy, "My Life with You" by Judy Torres, his own song "Free" and the Sam Savon and Judy Torres duet "Reach out to Love."

Sam savon has also lended his talents to backing vocals on various songs, most notably "Remember" by Fascination, "Every Night" and "I'm Losing Control" by Sebastian and Corina's "Loving You Like Crazy."

Currently Sam is hosting a sizzler titled "City Lights," a show on anything and everything cool and hip in New York City along with original music. The title song is "City Lights" and is written by Sam and produced by Victor Sanchez. (See link)

A veteran of hundreds of live performances, Sam Savon celebrated his 300th performance years ago at Beatstock with over 30,000 attendees.

Sam describes himself as "very ambitious and patient." As he adds "I'm not in the music business for the fame and fortune but rather because it's what I was born to do," "I want to make music and help pave the way for other Latino performers." For Sam Savon, singing has always been part of his life, ever since the day when at the age of three he got up in church and made his singing debut.


---