Safire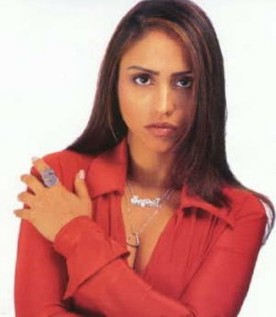 Although she didn't score as many pop crossovers as groups like Exposé or the Cover Girls, Safire's string of late-'80s club hits helped make her one of Latin freestyle's most popular female performers. Born Wilma Cosme in San Juan, Puerto Rico, she grew up mostly in East Harlem and began her singing career as a session vocalist.

She was discovered at an audition for the Cutting Records label, which won her the chance to record the already-waiting single "Don't Break My Heart." Released in 1986, it became an instant freestyle classic, as did the early-1987 follow-up "Let Me Be the One" (which she co-wrote).

The success of both singles helped Safire land a deal with Mercury, where she recorded her self-titled debut album. Released in 1988, Sa-Fire featured her two previous hits, plus the even more successful "Boy I've Been Told," which was penned by Latin star Marc Anthony, and became a significant success on urban radio and in clubs across the U.S. and Europe.

The ballad "Thinking of You," which she also co-wrote, became her biggest pop crossover in early 1989, peaking at number 12 and enjoying substantial radio airplay. Mercury didn't push the dance-oriented follow-up "Love Is on Her Mind" quite as hard, and it stalled her mainstream momentum, though she remained extremely popular in the freestyle community.

Safire's second album, I Wasn't Born Yesterday, was released in 1990, around the time that freestyle's presence on the pop charts had begun to diminish. Mainstream dance-pop and house music were taking over its previous audiences, and I Wasn't Born Yesterday couldn't perform up to the level of commercial success its predecessor had enjoyed, even despite the house-influenced single "Taste the Bass." With the freestyle scene no longer thriving, Safire remained quiet for a few years. She returned in 1996 -- signed to Sony and no longer sporting a hyphen -- with a more straightforward Latin dance album; Atrevida blended salsa with hip-hop rhythms. In 2001, Safire released Bringing Back the Groove, a combination of new material and remixes of her past hits. Both "Don't Break My Heart 2002" and the new ballad duet "Can You Stand the Rain" (originally by New Edition, featuring longtime friend Cynthia) landed some airplay among urban and Latin stations.

---