RemoteKontrol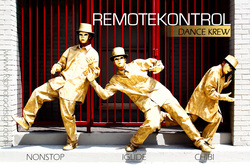 Everyone's talking about RemoteKontrol

Made instantly famous by their phenominal live performance on June 24th's"Result's Show" episode of Fox network's "SO YOU THINK YOU CAN DANCE,"RemoteKontrol is a group of three enormously talented dance animation artists.

Powered by group member, Bryan Gaynor's audition a few weeks ago, which left the show's judges in tears, RemoteKontrol's electric energy animation is thrilling to watch. The body control required to move as they do is unfathomable.

While watching RemoteKontrol perform it is difficult to believe that Bryan Gaynor was born with Klipifeil Syndrome (2 or more vertebrae fused together) and a severe case of scoliosis. Some level of discomfort and pain is his everyday companion. When asked how he works through difficulties to perform, Bryan answers by simply saying "I don't dwell on limitations, I focus on possibilities."

As the all around entertainers they are, the group is releasing their RemoteKontrol Theme song worldwide on the Nene Musik Production label on July 6th, available on Amazon, iTunes, Zune, Napster, eMusic and Thumb Play via the internet. The ring tone of the song is available now.
---