Rednex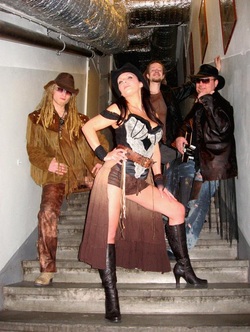 2009 and Rednex are yet again back on tour! REDNEX ARE: Scarlet, the beautiful, sexy & Feisty front woman wows us every time with not only an amazing voice.

Together with her partners in Rhyme, Dagger –A mighty & impulsive character lead male vocals as well as bass/flute/banjo, Energetic dance man Ace Ratclaw (Guitar/Drums/Violin/vocals) and Crazy Dreads Cowboy Joe Cagg (Violin/Guitar/Vocals) whip up the most powerful non stop energetic show stages have seen in a long time. They shoot high and hit the target every time. Running through a list of hits as long as your arm the show is action packed and yet at times gently emotional.

Powerful live vocals penetrate the hall along with gentle acoustic sing along performances and surprise drum solos with a twist. They are fun and chaotic characters whilst remaining ultimate professionals. Their aim to bring joy to the audience whilst integrating them into their shows is a true testament to their party and sharing spirit.

In 2008 Rednex shot again to number 1 in Sweden, after also being finalists in the Eurovision in 2006 and touring further a field like India, Russia and Ukraine, but in the rest of Europe its been a little quiet since, that is till now.

Rednex are known for their full impact shows and also full chart impact which raises its head reliably every few years with maximum effect.

Looking back to 2001 Rednex had been away for 5 years, without releasing a single record. Yet they made an amazing comeback with the single "Spirit Of The Hawk", which went to No.1 in Germany and sold gold in less than 5 weeks, just like they did 5 years previous!

In 1994, Rednex exploded on the charts worldwide. Their debut single "Cotton-Eye Joe" was a European No.1 and went on to become one of the biggest dance-singles of the 90´s, with platinum sales in UK and many other countries, and gold in USA.

In Germany, they went multi platinum and stayed for a record breaking 10 weeks at No.1, which was followed up by two other No.1 multi platinum singles. ''Old pop in an oak'' and '' Wish you were here''.

Then, there was silence for 5 years, why?

Rednex has always caused a lot of controversy with their different and fictitious image. Here follows the first publication of the true story about how they became a worldwide smash and why they waited to make a new album: Rednex was the brainchild of a creative collective in Stockholm, Sweden, made up of producers, musicians, visual artists, stylists, video producers etc.

In 1993, as they were already working within the music industry, they felt that the market was lacking true positive, happy entertainment made in a playful spirit.

They wanted to present the music-fans with something joyful and full of party atmosphere.

They started to play around with various ideas and the mix of country and dance music came alive, and the project was named Rednex. The team decided, not only to give the band a dirty country image, but also to make up a completely outrageous biography.

The first bio explained that the band was from USA and that they were found by chance in the isolated, forgotten and severely in-bred village of Brunkeflo City in Idaho, USA. The only valuable gene that had survived in this small genetically massacred community was the gene to play music. They were brought back to Sweden to record an album.

This made-up story was sent out as the official biography. The unique mix of country and techno made "Cotton-Eye Joe" an instant hit. Initially, the response was so immense that no promotion was needed at all.

The record sold amazingly well by itself, without the band appearing anywhere. This huge overnight success led to the press and media swarming around Rednex, trying to find out the details and the truth about the band with this highly extraordinary background.

To increase tension and excitement, the band decided to keep secret their true identities.

They did no interviews or appearances in the beginning, apart from a few interviews by phone at small local radio stations in Sweden, where they pretended to speak English with a southern accent.

As this secrecy went on at the same time that they were No.1 all over Europe, an immense pressure was building up from the media, who obviously knew that Rednex was a show, but didn't know the truth behind it. It was easy for Rednex to hide at first, as the band had dust all over their faces and were not easy to recognize without make-up from the few official pictures that were sent out.

Their dirty make-up also helped preserve their secret identities in the award-winning low-budget video, where, during the recordings, no hotel was affordable and the band had to sleep on the kitchen floor in the apartment of the cameraman.

Their clothes were bought very cheap at second hand shops and were ran over by a car on a gravel road to make them look old, dusty and used.

When news reporters got hold of the band, they didn't talk, and responded with nothing apart from grunting, shouting and drinking to keep up the image of being inbred, uncivilized beasts from the deep woods of Idaho.

In the beginning when some band members still had daytime jobs, photographers and reporters were trying to catch them, forcing them to sneak out through back doors and hide. When they occasionally did TV shows, they always arrived with make-up and stage clothes directly to the set and did not talk to anyone.

In Sweden, people spoke to them in English. Meanwhile, in the studio, whose location also remained secret, the producers and the band finished recording the debut-album "Sex & Violins".

The sleeve featured a stream of urine going into a pot, where the faces of the band members were floating.

The sleeve was banned in most countries and were sold in brown paper bags.

The pressure was getting more and more intense and it became more difficult to remain secret.

At their first gig, reporters and fans tried every possible trick to get close to the band and complete turmoil followed, but the touring agency mounted a wall of bodyguards and managed to keep the myth alive.

The band members never went official without make-up and their torn-up cowboy clothing.

Finally, someone (still unknown) who knew the team sold the story to the press.

Their passport pictures were published and their true identity was revealed. However, Rednex kept their image of being a truly partying hillbilly techno band and did sell-out shows with a positive energy and interaction with their audiences throughout the world.

Their image was, to a certain extent, revolutionizing as they were not striving to fit into the establishments demands of being clean and beautiful, but the opposite, striving towards showing an ugly and dirty image, which is as original today. Sometimes, their originality put them in all sorts of awkward situations.

Once they were arrested in Norway for drinking beer on stage, once they were invited to play at a Hell´s Angels party in South Africa, once they caused an uproar as they showed themselves naked on prime-time TV in Germany.

Rednex toured the world, but when time came to do a new album, the team took an awkward decision. Instead of doing the obvious, follow up in a repetitive style with manufactured material, they decided to put the project on hold, and not bring it to life until new ideas came by themselves, as fresh as it had been from the first moment.

In no hurry, they went on to engage themselves in other activities such as producing web sites, TV & radio, computer arts, design etc.

They wanted to make sure that, when Rednex made something again it would be initiated from the same genuine joy and playfulness that were there initially in order to generate the same fun and success.

So after the second album 'Farm Out' came out and sold gold yet again bringing hits like 'The way I mate', 'Hold me for a while ' and the huge number 1 smash 'Spirit of the hawk', tours followed and then a few more singles like 'The Chase'' & ' Cotton eye Joe 2002' which climbed their way in to the top 30 in Austria, it was time to release a best of album.

'The best of the west ' was released in 2003 and gave the band another tough promotional tour.

2 more years of full on touring following which included low flying private jets, sinking boats, near misses in tour buses on the highway, a number of performer changes but also performances for Prime Ministers in Rumania, Ambassadors of the USA and even a concert for the king of Morocco for his birthday party.

A hectic chaotic stream of shows, tv, interviews and very little sleep led to burned out performers and in 2005, Scarlet took a break, and was replaced by a former Rednex singer from '94.

Shortly Dagger and Ace also left to recharge. In 2009 Scarlet was ready again to reclaim her place as Front woman of Rednex and called on her favourite colleagues to join her once more.

On January 1st 2009 they stepped back into the limelight and kicked off a European tour which has so far already visited, various German venues, Luxembourg, Sweden as well as sell out events in Ireland, Other dates so far include talk of, UK, USA, France, Switzerland, Holland, Mallorca, Portugal, Rumania, and more..

As well as many repeat performances in Germany.

A new album – their 4th studio album, title of which is so far a secret is in production.

Today, Rednex is back from the dusty, but happy fantasy village of Brunkeflo, with as much energy and party spirit as before.

They will tour Europe during the coming months with their original and fabulously energetic "Saturday night Beaver " party show.

Miss it…Miss out!

After all there ain't no party like a Rednex party.!
---