Proyecto Uno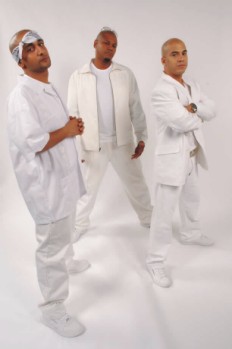 Innovators of a bold new sound in Latin Dance, Proyecto Uno has been fusing the rhythm of Merengue and the intensity of Techno, the late-night boom of House with the rapid-fire rap of Hip-Hop flow, without losing the romance of Salsa and R&B Soul. The result is a delicious hip-shaking sound that sets trends in Latin Dance culture.

Proyecto Uno's sound is funky and flavorful filled with Dominican Yorker and Nuyorican emotion and non-stop energy. It's the sound of New York Latinos who celebrate their native heritage while giving props to their new home.

"Our sound doesn't need translation. It's just rhythm and dance," says the group's founder and leader Nelson Zapata.

Proyecto Uno got its start in New York City's Lower East Side where the group's founding member Nelson Zapata, attended high school. Born and raised in the Dominican Republic, Nelson started missing the native music of his homeland: Merengue. In 1989, he started a traditional Merengue band called Proyecto Uno.

Equally influenced by his homeland and his new land, Nelson wanted to try mixing Merengue with the music he heard in NYC. He reached out to a friend who supplied him with a loop. From that loop, Proyecto Uno constructed a Spanish Language homage to Blackbox's 'Everybody Everybody.' It was 1990 then and the nation was gripped by the Persian Gulf War. Nelson laughs, recalling his emotions back then. "I remember thinking, 'Oh God!' Don't let the world end when I've just got a record out!"

Life went on and so did Proyecto Uno. Their next single was 'Brinca' which was more on the Hip-Hop side. The song became a huge smash throughout Latin America. The success of 'Brinca' led to "Todo El Mundo," their first full-length album. The title was an indication of Proyecto Uno's vibe. "We wanted to take our music to the whole world," Nelson says.

Soon the group was well on their way to living out that dream. They performed at sold-out shows in Ecuador, Colombia, Venezuela, Chile and Argentina. Nelson says, "We brought the New York Style, and we wanted to show South America how Latin culture is in the U.S."

This new version of Proyecto Uno recorded "In Da' House" in 1993. The choice of an English title was deliberate. "In Da' House" received better distribution and went platinum throughout Latin America. More importantly, Proyecto Uno's blend of Merengue and old School started to make an impact in the United States, specifically because of a single called 'El Tiburon.' It was a major hit and laid the foundation for Proyecto Uno to ingratiate them to the U.S. market. "Another Night" followed this hit and it quickly became an anthem of the romantic merengue side of Proyecto Uno.

The success of "In Da' House" was followed by their next two albums. The first "New Era" brought one of two collaborations with Reel 2 Real with the hit song "Latinos", other hits were "Pumpin", "Materialista" and "Grillero". The other successful collaboration in Reel 2 Real's album "Are you Ready for Some More?" was "Mueve La Cadera/Move Your Body". This was followed by the album "4" with the smash hit "25 Horas", which was performed in the Ms Venezuela Pageant by another artist and the Ms Colombia Pageant by Proyecto Uno. At that time Proyecto Uno had sold over three million copies worldwide and became one of the most recognized groups in the Latin music industry.

The other members of Proyecto Uno are Johnny Salgado and Jose Medina. Jhonny of Puerto Rican decent joined the group when the "In Da' House" album came out. He was a free-style singer and was a perfect match for Proyecto Uno. The most recent member is Jose Medina, better known as "Spagga". He is a dynamic and versatile Dominican rapper. He comes from the "Reggaeton" movement and has delighted Proyecto Uno fans with his on stage charisma.

In "Pura Gozadera" ("Pure Joy"), their latest album, Proyecto uno brings new fusions without abandoning their trademark sounds. "Through our career we have been innovators", says Nelson. "This album is no different in that respect". They bring fusions using Raggae and Dance Hall sound in songs like "Monotonia" and "Holla!", the first single. Other tracks are "Holla! Remix" (Reggaeton), "Fiebre", "El Truquito" (Merengue/Hip-Hop/Dance), "Be My Baby", "Something About You" (Dance/Merengue), "Algo Contigo", "Buscándola" (Merengue/Pop Dance), "Bajando" (Merengue Rap), "Al Otro Lado" (Bachata), "Dime Si Te Gusta" (Dance), "Sin Tiempo" (Merengue Romántico), and "La Velita" (Balada/Samba).

With all this fusion of music is easy to see why Proyecto Uno is full of "PURA GOZADERA!!!"

---