Omarion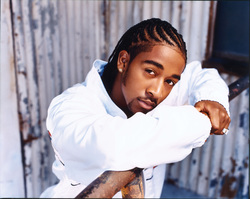 At 21 years old, with music, television, book publishing and movie credits under his belt, Omarion's growth, maturity and depth are showcased on his sophomore, Epic / Sony Urban, solo effort aptly titled, 21. Of the album concept he acknowledges, "Everyone can relate because it's a memorable time. It's a universal topic. It's a celebration."

While the number twenty-one is symbolic of the card game Black Jack, it also is representative of the number young people aspire to become and the reflective age that older folks wish they could return to. "The thing is- its control. When you reach 21, you're buying property, you're setting your life up- it's a different place. You feel stable mentally. At 18 - 19, you're so confused. To me, at 21, it was kind of a realization of who I want to become – just me practicing my morals as a man and getting better in my craft." Being able to clearly articulate his thoughts, Omarion is not a kid anymore. Aware of his maturation, "as I grow older and in my craft, who I want to be as an artist and the guys I looked up to, it just meshes into one thing and that's a period of time, and that period is now. I can definitely say when people hear the music I hope that they feel the same thing that I feel."

21 showcase Omarion the grown man, in his own words. It's a personal testimony to his life and development up to this juncture on this journey. "I feel like this time around with me writing on pretty much everything, it's personal. Every situation on the album has personally happened to me. It's me. I loved making my music, especially with the producers." With contributions from super-producers Pharrell, The Underdogs, Bryan Michael Cox and a new young cat named Eric Hudson, whom Omarion describes as "my Teddy Riley," O is as confident as he is comfortable about the body of work he's created this time around.

The first single "Entourage," produced by Eric Hudson, blends O's memorable yet danceable chorus with catchy lyrics. The up-tempo groove feels like "Touch" from his debut, however as Omarion requests a young lady's presence in circle, he's very clear on how he wants to treat her once she makes it to the inner circle. "Show me something different than what you have to offer physically. It's all about what a woman says, how she speaks, how she carries herself, how she respects herself, how she respects her mother and her father."

The second single, "Icebox," produced by Timbaland, delivers dark engraining beats that draws listeners closer to Omarion's experience in a fading relationship and illustrates how he deals the challenges of the commitment. Omarion emotionally describes the place that a broken relationship would put him in and how this experience would turn a soft heart into an "Icebox."

The topic of love makes a return guest appearance throughout 21. Navigating through a plethora of situations and tempos, Omarion not only wanted to open up and explore the full range of emotions in his mind, spirit and psyche, but also his heart. "When any artist tries to make a classic album, they try to make it from their heart and relay it from situations that everybody can relate to, and just make good music. That's the same thing I tried to do, but I took the elements of old school because I remember how it used to make me feel when I heard a song." Influenced by Teddy Pendergrass, Marvin Gaye and Earth, Wind & Fire, 21 is music you can feel.

Omarion's clarity speaks volumes about his awareness for what the listener needs, adding, "When you're telling a story, in order for it to be a great story, it has to have depth- a beginning, middle and an end. With creating my music, that's what I felt like, I wanted to create wholeness. I don't think artists express themselves enough sometimes." Nothing could be more expressive to O than the Pharrell produced "Lisa." At the time it was created, Omarion was involved in a relationship and once it ended, O felt like the song explained the entire situation as if he spoke it into existence.

Focusing on his craft is at the forefront of Omarion's world, however maintaining that professional and personal balance is a key component in his process. "A lot of people are surprised that I say I want to settle down soon. When you've been in the industry as long as I have, you're not looking for the one night fling, at least I'm not. I'm looking for a potential wife to spend time with. Even if it's just friendship in the beginning, I'm not looking to rush. You travel years and years on the road, and you want to have someone that you can count on and be there for you."

On the Eric Hudson track "Been with a Star," Omarion's impetus was marrying his industry relationships with his traditional values. Citing Will and Jada Pinkett-Smith as the "power couple" that continues to make it work, his experiences have led him to gravitate toward "normal" women. "When you introduce her to a life in the right way, and she's equip to handle it, she's equip being around other stars and not really caring because she knows where her respect and her love lies, it's so dope because you feel like you're introducing her to another world, so she can appreciate it differently."

The Underdogs contributed a few of Omarion's favorite tracks. "Midnight," is a concept song cleverly explaining everything that happens leading up to the clock striking 12, and everything that unfolds afterwards. "Wrong For Me," speaks to O's attraction to a girl that is conscious of her incorrect motives, yet he remains addicted to her. "Do it," is O's self-professed "song." Describing it as "bouncy, clever and fresh, most girls feel like if you give them some type of attention, it's because of how they look, and that's not always the case."

Admiring Michael Jackson's artistry, "I want to be recognized and respected the way he has." With "Electric," "I felt like that was my `Rock with You.'" The changes in the tempo of the Eric Hudson track continue to allow Omarion's dance ability and passion to take over.

Fueled with passion and honesty, 21 has Omarion breaking out of the pop-teen idol mold and moving into his grown man status. Recognizing the biggest misconception about him, "people still have their doubts or are in limbo that I'm real. When you mention anyone that has longevity, you can hate, but that's who they are. I hope that with this album I can prove that your boy ain't going anywhere, I'm here to stay."

Stepping into the lead role of a yet-to-be-titled Jennifer Lopez Production movie, O is getting his chops wet, stretching his acting muscles as "Rob," a frustrated New York rapper who encounters a myriad of obstacles on his journey to forgiveness. Admittedly a little nervous, Omarion is confident that this is "another step" in the process.

As 21 reflects the man that Omarion has become, he is optimistic and clear about his role. "I just want people to feel when they hear my music that it's real. It's not because I want to be famous or better than anybody, this is my God given talent and this is in my heart to do, and it's ok! I want to have my humility and be respected differently than most guys in the entertainment business. One day if I decided to become an executive, that it was ok for me to have a wife and be a Christian man, believe in God and as far as spirituality, be ok! It's ok to be who you are. Ultimately I want to be an example, that's what I mean by it's ok." Twenty-one, is a great age to be.
---