Ñejo & Dalmata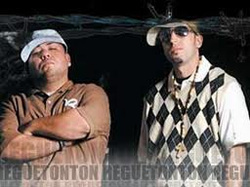 Mold breaking reggaeton duo Ñejo y Dálmata placed themselves on urban tropical music's cutting edge early on in their careers. While maintaining healthy solo careers in reggaeton's capitol city of Ponce, Puerto Rico, the pair used their collaboration as a stylistic laboratory, the fruit of which would break every rule of the genre.

As guest artists both Ñejo and Dálmata appeared on popular releases like MVP and Ground Zero. Their contributions to landmark records earned the duo enough label attention to venture out as a duo. Ñejo y Dálmata's debut disc Broke and Famous offered the pair a platform to make significant statements about music and the state of the industry.

Their title choice and content of their lyrics boldly stated that talent is the currency of music, rather than cars and gold. Similarly, the duo included stylistic influences that flowed against reggaeton's mainstream. Incorporating vallenato, salsa and rock, Ñejo y Dálmata garnered both praise for their daring choices and denunciations from urban music purists. All arguments notwithstanding, the record's leading single "Algo Musical" landed in the Top 40 on Billboard's Latin Tropical Airplay chart in '07, and their Hot Latin Tracks chart in '08. An aggressive touring schedule fell hot on the heels of Broke and Famous' release, taking the duo to stages throughout Latin America.

The group's quick rise in popularity paired with their experimental ethic has caused many journalists and critics to predict longevity and influence for Ñejo y Dálmata's collaboration.

---