N.O.R.E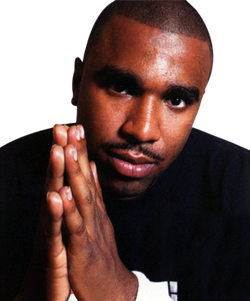 Always known for keeping a biography of Manuel Noriega with him at all times, the then 16-year old Victor "N.O.R.E." Santiago was christened after the Panamanian General he emulated while serving time in jail for drug charges. Eventually Victor shortened his name to "N.O.R.E." an acronym for "Niggaz On (the) Run Eating", as he felt this was a better description of his drive and own ambitions, and naturally easier to say.

Born, Victor Santiago (on September 6, 1978 in LeFrak City, Queens), N.O.R.E is a NYC rapper and member of the hip-hop group C-N-N (also known as Capone-N-Noreaga). The son of an African American mother and Puerto Rican father, N.O.R.E. he was born in LeFrak City, Queens, which is one of New York City's toughest housing developments, and it, was here that N.OR.E was shaped and molded as a young emcee. Like lots of NYC's youth he got into trouble from time to time, but N.O.R.E. was destined for more than a life behind bars and a career of crime. He took up penning raps while in jail, trading verses with future partner, CAPONE, while in bible class. After his release from prison the Lefrak, Queens native found himself in the midst of an over-dramatized east coast, west coast rap feud, fueled by his verse on "LA, LA," the response record to Tha Dogg Pound's dis record "New York, New York."

Alongside affiliates Capone and Mobb Deep, N.O.R.E. captured the attention of a reeling hip-hop underground that championed the rapper the unofficial defender of NYC hip-hop. Later that year in 1996 the group C-N-N was signed to their first record deal and subsequently released their debut and five-mic classic, "The War Report" (Penalty/Tommy Boy Records). The group's unforgiving portrayal of the hard knock life tinged with their brand of explosive realism earned them instant credibility. However, in June 1997, Capone's troubles continued and he was thrown back in jail on a parole volatio, and thus N.O.R.E began working on his solo alb
N.O.R.E. (Penalty Records)

In 1998 N.O.R.E finally released his much-anticipated solo debut album, self-titled "N.O.R.E." (Penalty Records), which featured the hits "Superthug" (the Neptunes' first major production single) and "Banned From TV" (Swizz Beatz produced); along with the title track "N.O.R.E.". The album featured a large number of guest artists, such as NAS, CAM'RON, JADAKISS, BIG PUN (RIP), and BUSTA RHYMES. The album reached Platinum Sales (1 million copies sold) and was #3 on US Billboard Charts.

Melvin Flynt: Da Hustla (Penalty Records)

In 1999 he released "Melvin Flynt: Da Hustla", his second album. It had another Neptunes-produced hit, "Oh No". However, N.O.R.E suffered a major tragedy and loss. While recording the album his father died; he has a dedication to him on the song "Sometimes". Dealing with the of pain of his loss, most of his time was spent mourning and reflecting on his father, and subsequently the album didn't do as well at retail, with poor marketing and promotions.

However In 2000, after Capone was released from prison, and C-N-N got right into the studio to record, "The Reunion". The album was released in November 2000 and featured C-N-N classics "Bang Bang", "Y'all Don't Wanna", and "Phone time". Although the album didn't certify gold sales, it became NORE's second biggest album at the time, selling 417,743 copies in the U.S. and also appeared on US Billboard Charts as the #8 Top selling R&B/Hip-Hop album of the year. However, there were several reports NORE and Penalty/Tommy Boy Records started to have several creative and contract disputes during their time together.

God's Favorite (Def Jam/Universal Records)

As the newest member on the Def Jam Records roster, N.O.R.E. was armed with a rekindled spirit and the momentum of a smash summer single. He had definitely re-arrived, poised to regain his super-thug status.

"I feel relieved," explains N.O.R.E., who along with CNN partner Capone were both released from their contracts and picked up by Def Jam following the release of "The Reunion" album. "I put my heart into that last CNN album and I was feeling like a failure after it dropped. But when I went on Hot 97 and announced that we were free agents, before I could get the words out of my mouth, my two-way was ringing. 'What do you mean? We want y'all.' Def Jam kept their ear to the street and bought us out of our contract. That's when I knew how important I was to the hip hop community."

With the support of hip-hop's most successful label, N.O.R.E. confidently embarked on his new 16-track long player. Recorded in just six weeks, "God's Favorite" album was a return to the organized noise of '98s brilliant N.O.R.E. So, in 2002 N.O.R.E released his third solo album, "God's Favorite". "This was the most focused I've ever been," N.O.R.E. says, having recorded the entire album in New York, the first time since his '96 CNN debut opus "The War Report". "When I went to Miami I was at the strip clubs. I lost focus. This time I stayed in NY, in the depths of hell. I literally had to sleep out in the hood, leave my ATM card at home, and get grimey." And, the results were proven, the album had the hits "Nothin'" and "Grimey". Capone, Fat Joe, Cam'ron, Cassidy, and The Neptunes make guest vocals and appearances. The hit single "Nothin" reached #10 on the Billboard Hot 100 Charts, becoming his biggest single of his career. The album peaked at #3 on the Billboard 200 Albums Charts as well, selling 833,00 copies.

N.O.R.E y La Familia: Ya Tu Sabe (Roc La-Familia/Def Jam Records)

The emergence of reggaeton music started to penetrate the US, with concentration in the major cities of NY and Miami, thus naturally the music was being played in all the popular clubs and on the urban radio stations. With there being strong Hispanic presence in these cities, the progression of musical influence was natural and foreseen by lots of people within the industry.

With NORE being of Puerto-Rican decent, he too became very familiar with this "reaggaton" music often seeing the growth of its popularity across NY, MiA and especially in Puerto Rico. So, in 2004, N.O.R.E. teamed up with R&B singers Nina Sky and Daddy Yankee, and wrote and released the hit reggaeton single "Oye Mi Canto", from the album "N.O.R.E. Y La Familia... Ya Tu Sabe", album that was released in September 2006, on Jay-Z's world music label imprint Roc-La_Familia Records. N.O.R.E. credits himself with introducing reggaeton music into mainstream radio, television and American culture, "Oye Mi Canto" later became on the biggest singles of 2006.

He also collaborated on the hit single "Mas Maiz" which included artists such as Nina Sky, Fat Joe, Big Mato, Chingo Bling, Lil Rob, Negra (LDA) and Lumidee.

Since the N.O.R.E y La Familia: Ya Tu Sabe (Roc La-Familia/Def Jam Records) release N.O.R.E has returned to his rapping roots and has been hard at work.

N.O.R.E continues work vehemently on a 4th solo album, S.O.R.E (Still On the Run Eating), which is due out late summer 2009 (Thugged Out / Militainment Records). The album features appearances from JIM JONES, RON BROWZ, KID CUDI, DRAKE, THE NEPTUNES, NINA SKY, BUSTA RHMYES, CHESTER FRENCH, and A few others. The summer anthem "Rotate" feat Busta Rhymes & Ron Browz, can be heard throughout the clubs, proving that the super-thug himself continues to put out club hits, full of fun and energy. Also, check out "Soulders Move" feat. Jim Jones & NINA SKY, yet another pulsating hard record that even the ladies can get into.
---