Mims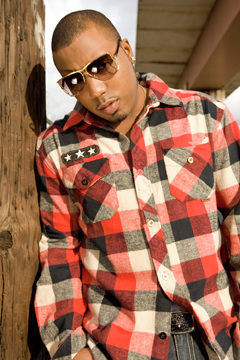 When it comes to Hip Hop culture, Uptown, New York City has been home to many urban trends that have impacted the world with Harlem being its most prominent contributor. But if you were to ask Washington Heights-based rapper Sean Mims, known simply to the Hip Hop world as MIMS, his upper Manhattan neighborhood located slightly above world-renowned Harlem USA is about to be stamped into Hip Hop's consciousness with his brand of melodic, accessible flows and sincere lyricism.

MIMS has caused quite a stir not only in his hometown but across the country. And with the debut album "Music Is My Savior," released by label Powerhouse EMI Capitol Records and his imprint American King Music, the entire Hip Hop community will find out what Washington Heights heads and his loyal and growing fan base have known for a while.

His independently released single "This is Why I'm Hot," has been heard for months on the hottest radio stations from coast to coast resulting in generating 1,000 spins per week and a radio-listening audience well above 59 million. The remix featuring reggae legend Junior Reid and Cham is at the heels of the original and is a well requested club banger.

Born of Jamaican-American parentage, MIMS credits his musical career and his relentless hustle to make it as a recording artist to his childhood years in the predominantly Dominican enclave of Washington Heights which is known for its hustling mentality. "Coming up my whole life I always had the Harlem influence around me. But when it comes to hustling and making money, I've had that Washington Heights influence. Many Dominicans, who've come into the country, have come with their first instinct to hustle." MIMS' first foray into music occurred when he was thirteen years old, after his mother bought him DJ equipment. As a result, DJ ing, engineering and producing became his first loves prior to picking up a microphone. Unfortunately, around the same time, his mother passed after the birth of his younger sister. Two years before, he lost his father as well. "Both of my parents passed away when I was younger," MIMS somberly recalls. "I didn't really know my father like that. I didn't grow up with him, although I still respect him. He passed away when I was eleven years old. My mother passed away when I was thirteen. She had just given birth to my younger sister, the only sister I have. She passed away a week later as a result of after-birth complications."

Between his mother's influential equipment purchase, family support and a will to survive, MIMS placed the success of his future into one set of hands: his own. "Ultimately, it was up to me as to whether I was going to become a victim of circumstance. I could have been one of those cats to say, "F the world. I lost both of my parents and I can do anything I want right now because nothing limits me from doing that." Instead I said, "You know what? If I'm going to do anything or take anything out of this situation it's going to be positive.' I took the positive out of it and I feel like it made me stronger. It made me go out there and say, "I'm going to accomplish this because you only get one life to live. This is what I want in life and I'm going to make sure it happens." Pursuing a career in rap music became that thing MIMS wanted to do the most.

Already a grade 'A' student in various high schools throughout the New York Metropolitan area, MIMS eventually graduated and did a brief academic stint at Nassau Community College. But the hold Hip Hop had on him was far too great and he decided to drop out of school and treat his life's passion as a full-time job. For years, MIMS held court, holed-up in his home studio studiously perfecting his craft and the hard work ultimately paid off, especially when Miami-based producers, the Black Out Movement came calling. "I got a beat CD from an old friend of mine that I was working with and a song I recorded called I Did You Wrong was on that CD," remembers MIMS.

"I recorded it in my studio, and the company I was working with before liked it so much that they put it out. They went behind my back and pressed up copies on vinyl, and at that point I still didn't know who produced the record. Ironically, my sister's father was having a wedding and one of the cats included in the wedding was the manager of Black Out. Everything came together and it could have been an ugly situation. Having this relationship with their manager we keyed everything out, went straight to business and made it happen."

The "I Did You Wrong" single dropped in 2003 and got major radio market airplay in various locales. The buzz worthy song enabled MIMS to go on a national tour with Method Man and build some fruitful business relationships.

Since then, MIMS has established his imprint American King Music which is going hard to make his presence felt especially in the wake of the success of MIMS' current dirty South-tinged single, "This is Why I'm Hot." The reaction to MIMS' cool, Washington Heights delivery and the song's infectious club-bounce has been nothing short of critical-acclaim, prompting the single to get heavy mix show rotation nationwide on stations like New York's HOT 97 FM. "I've had a lot of records come out before "This Is Why I'm Hot," but with those records I never felt like I had to bring something different for myself, first and foremost, and then something different from a New York aspect," says MIMS. "I also had to bring my influence into the business through my travels. If you listen to the record I've got a bit of the Hyphy movement in there, and there are a lot of Down South elements in there. I take it to the different regions." The success of "This is Why I'm Hot," along with MIMS' undeniable national street buzz caught the eye of many major labels including EMI Capitol Records. After a long courtship by several labels, MIMS decided to go with EMI Capitol Records.

Because of his struggle-filled life experiences, MIMS not only has the talent, but the fervor to impact his generation. His rhymes traverse a wide range of territory; from the clubs to the street, to the ladies and to the world at large, which is full of introspection, maturity, courageousness, sharp wit and humor. Other songs off of his self-titled debut that elicit such moods are "Don't Cry," "Just Like That" and "It's Alright," which show and prove Mims' dexterity as a rap artist.

Though much has been said about the critical state of New York Hip Hop, MIMS represents an artist who doesn't mind going outside of his comfort zones to not only seek to get Hip Hop back in love with the city that gave birth to it all, but most of all, to get the rap world back in love with itself by opening up its ears, minds and hearts for MC's with something more to say; and who won't be stopped by any means in getting his message across to the masses. "As an artist I want people to expect the unexpected. Don't think for one minute that I am going to come this way all the time. You'll hear one record and go wild - "Wow. He did that?" I want people to listen to the album and expect the unexpected because this is only the beginning. It is going to get better than this."
---