Martha Wash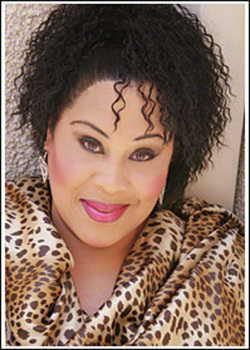 I said, 'Lord, lift me up!' Let me rise above. Nobody's gonna take my pride, I won't stop, I will not be denied - I carr
True words from the legendary Martha Wash.

Like many artists, Martha has felt the ups and downs of the rollercoaster-like music industry. From being the uncredited powerhouse vocalist behind C+C Music Factory's classic "Gonna Make You Sweat (Everybody Dance Now)", to seeing her debut solo single "Carry On" reach the #1 spot - in her own name - Martha has unquestionably made her mark in music history.

Beginning her musical journey in the late 70's as one half of the disco group Two Tons of Fun, Martha found herself singing with the incomparable Sylvester. Twenty-some years later, fans still speak of how extravagant and over the top their shows were! Sylvester's falsetto rang loud and clear over the massive band sound while swooping through the horn and guitar sounds. The Two Tons added the icing on the cake with their booming vocal harmonies.

In the early 80's, the Two Tons proudly declared, "Hi, we're your Weather Girls" and a new talent emerged onto the scene. As part of the Weather Girls, Martha scored a Grammy Nomination for a song that was destined to become a cult classic. Yes, "It's Raining Men" – the original version that confirmed it was time to leave your umbrellas at home, rip off the roof and stay in bed. Martha continued to sing with the Weather Girls until the late 80's when she felt it was time to move on to the next tenure of her career.

Into the early 90's, Martha became one of the most sought after session singers and soon found herself recording for numerous acts - Seduction and C+C Music Factory to name a few. From "You're My One and Only (True Love)" to the already mentioned "Everybody Dance Now", Martha was all over radio airwaves and had club-goers moving to her distinct vocal styling.

However, riding high on the charts soon found turmoil for Martha. Her lead vocals on five singles helped to put the group Black Box on the music map. "Everybody Everybody", "I Don't Know Anybody Else" and "Strike It Up" were among their biggest hits – all of which still receive airplay some 15 years later. However, as this new era of dance music set in, she saw herself being replaced in music videos and promotional pictures by a "more marketable image". Martha eventually received the recognition that was way overdue. Nevertheless, many wondered if she could really make it on her own. A challenge Martha was up for - she was about to prove that she was destined for solo success!

In 1993, Martha took control of her voice with her first solo, self-titled project. The CD, "Martha Wash", produced three #1 dance singles. "Carry On", "Give It To You", and "Runaround" all sky rocketed to the top of the Billboard charts. Martha appeared on numerous television shows to promote the album, including The Arsenio Hall Show where she opened the night singing "Everybody Dance Now". There was no longer any doubt what had made earlier groups so successful. It wasn't the "more marketable image" but rather Martha's incredible sound.

Todd Terry knew from day one that the way to have a hit song was to have a good melody, good lyrics, and a great voice, so in 1997 he called upon Martha and teamed her up with Jocelyn Brown. Their immense talents helped take his "Keep On Jumping" and "Something's Going On" singles to the number one spot. Having hit singles with her own name attached was something that Martha was now beginning to grow accustomed to and it wasn't going to stop there.

Success continued to follow Martha with her second solo CD in 1997. "The Collection" featured highlights from her twenty year long career as well as new singles, "Come", "Catch The Light", and "It's Raining Men...The Sequel" which featured Martha singing alongside Rupaul.

Martha then collaborated in 2000 with Small Voices Calling on their "Sounds Of A Better World" CD - a project that would benefit a variety of charities which find innovative ways of supporting children in their environment. "Listen To The People" saw her riding high on the charts once again and captured audiences worldwide with its' positive message of hope and inspiration.

Martha's most current project is one that is extremely close to her heart. In 2004, she began her own record company, Purple Rose Records, and immediately saw the first single, "You Lift Me Up" soar high into the top 5 on Billboard Magazine's Club Play Chart. She is currently recording material for her upcoming project which she says will be "inspirational and uplifting".

It's been a long and bumpy road for Martha, however, she continues to spread a positive message to unite people worldwide. Whether she is belting out a house groove or delivering a church-inspired gospel piece, you can be sure that her music will capture your attention and take it's place in music history.
---