Mala Fe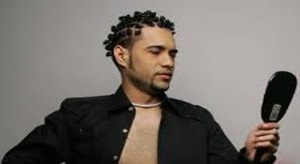 Javier Gutiérrez, better known as Mala Fe, was born in Puerto Plata, Dominican Republic. In love with music from a young age, Gutiérrez began his daily practice routine of congas and voice at the age of eight. He worked faithfully on his craft, dreaming of the day when he might join his brother's band, La Tropa, a group that specialized in perico ripiao, the folkloric precursor to modern-day merengue. Gutiérrez soon joined up as one of the group's percussionists, who were known for their complex rhythmic breaks. His familiarity with the complex and idiomatic style offered Gutiérrez many advantages, and he relocated to Santo Domingo when he was 16, planning to begin his professional career.

Already an excellent conguero, it wasn't difficult for Gutiérrez to obtain work with merengue groups in the capital city. His professional debut came a short time later with La Banda Salvaje, and shortly thereafter, Grupo Bongo, with whom he was given his first taste of international touring.

It was also during this time that Gutiérrez branched out and began to learn piano, composition, and various vocal styles. His solo debut album under the moniker Mala Fe was released in 2000. Con Su Loquera (Sony International) hit the charts, peaking at number five on Billboard's Latin/salsa charts. Mala Fe shifted in 2001 to the powerful New York-based J&N Records, a leader in merengue and tropical music records.

Mala Fe soon established himself as a hero among the New York gay community with his vivacious stage performances and his daring cover of "Pluma Pluma Gay." The bold album cover of his 2006 release, Me Liberé, garnered much attention, establishing him as one of few artists unencumbered by a sexually conservative genre.

---