Los Adolocentes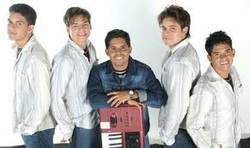 Adolescent's Orquesta, known informally as Los Adolescentes, is a salsa romantica group from Venezuela that was initially popular in the mid- to late '90s with hits including "Anhelo" and "Persona Ideal."

A decade later, after a new lineup was assembled, the group proved popular once again with hits including "Se Acabó el Amor" and "En Aquel Lugar." Adolescent's Orquesta is essentially the group of PorfiBaloa (piano, keyboards, bass), who is not only the group's producer but also its musical director and primary songwriter.

The original lineup of Adolescent's Orquesta was comprised of Wilmer Lozano, Williams Lozano, Armando Guiñan, and Charly Villegas. This original lineup sang on the group's full-length album debut, Reclamando Nuestro Espacio (1995), and also the follow-up album, Persona Ideal (1997), which spawned the respective hit singles "Anhelo" and "Persona Ideal.

Adolescent's Orquesta's standout singer, Wilmer Lozano, then departed for a solo career (debuting in 2001 with the album Original) and was replaced by Sócrates Cariaco for the group's third album, La Misma Pluma (1998). Unlike its predecessors, this album failed to spawn a major hit, and the group wrapped up its recording contract with Sony Music in 1999 with the compilation Millenium Hits.

After the turn of the century, following several years out of the spotlight, Baloa reassembled Adolescent's Orquesta, hiring a new lineup of young male vocalists: Angel Delgado, Oscar Arriaga, Everson Hernández, and Armando Davalillo.

The comeback album Búscame (2005) -- released domestically by Universal Music Venezuela at first and then re-released internationally by Union Music Group in 2008 -- revived the group's fortunes, spawning the major hits "Se Acabó el Amor" and "En Aquel Lugar." In the wake of this comeback, Adolescent's Orquesta released Clásicos en Vivo (2008), a live performance of the group's greatest hits to date.

---