Lea Lorien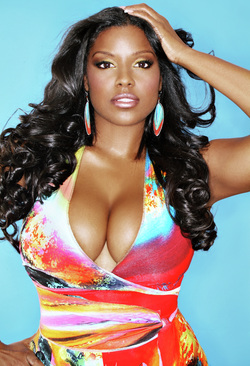 HOW WOULD U FEEL? Was a question on the minds of the press around the world, as they discovered native New Yorker, Lea Lorien's 2004 debut single. "How Would You Feel" is the collaboration that launched David Morales's second album 2 Worlds Collide in 10 years. "Being put on the fast track with legendary Grammy winning producer/re-mixer/DJ David Morales has been an experience to remember, I'm so grateful" says 27-year-old Lea.

The first single "How Would U Feel" has obtained anthem status, flying to #1 on UKs Music Week club chart, in just 3 weeks. It had done the same in clubs around the world, and crossed to radio in 13 countries. In the USA, the single obtained #1 status on Billboards club chart and remained there for 2 weeks. It also went to #1 on Billboards Dance Radio Play, knocking out DESTINY'S CHILD and jumping over CIARA.

3 weeks after the single release, Lea assisted in the launching of David Morales' 2 Worlds Collide album in 5 countries. Traveling the club circuit with the biggest club anthem to hit the streets in many years, Lea found herself singing in the middle of Morales's shows in Mexico City, Montreal, Milan, Barcelona, Ibiza, Miami, Chicago, and her hometown New York City.

The debut single has been compared to other Morales hits such as Mariah's "Dreamlover" and CC Peniston's "Finally". The club versions of both of these songs catapulted both artists to #1 Pop status and In 2005 Lorien & Morales won best House/Garage track at the International Dance Music Awards/Winter Music Conference.

Lea Lorien is daughter of Rock guitarist Carlos Alomar (David Bowie, Iggy Pop, Paul McCartney) Singer Robin Clark (Chic, Simple Minds, Luther Vandross, Beyonce) and granddaughter of Bill Clark (George Shearing's Down-Beat award winning drummer) and Rita Clark (A 1930s dancer in the Apollo theatre Chorus line.) She attended some of the best schools N.Y.C. has to offer. Starting her musical education and career at the age of 10 Lea has loaned her voice to many commercials including; Kodak's-True Colors, Cheerios, AT&T, Kool-Aid, L'Oreal and Miller Lite ... to name a few. For Play Station 2 "PaRappa The Rapper 2", Lea transforms her voice into PaRappas girlfriend Sunny Funny as well as for the theme song. On the Music scene, Lea has sung backgrounds for Mary J. Blige, Carl Thomas, Brandi, Patti Austin, Michael Bolton, Dreams Come True, Shania Twain, Anjelique Kidjo, BLUR and Grammy Award winning group Scissor Sissters 2006 Album "TADAH". In 2008 Lea can be seen singing and performing for a Panasonic commercial with Japan's premiere pop group "Dreams Come True."

In 2005 Lorien and Morales produced and wrote for Suzanne Palmers album Home on Star 69 Records. Currently she has worked with several different producers and has also collaborated with Mario Winans, Duo Live and Alicia Keys as well as her production team Krucial Keys on various projects. In August 2008 Lea and Lem Springsteen of Mood II Swing joined forces and co-wrote for Louie Vega (Vega Records) titled "One Day", which shot to top 10 in 2 weeks on Traxsource.com and in September 2008 Lea appears on another Springsteen production which was picked up for the compilation CD Independent Soul Divas (Lola Waxx Records (UK)). The song first appeared on Lem Springsteen's 'Terminal Love' album on which Lea was a featured vocalist.

Lea is starting to write for her own solo album, a mixture of House & Soulful House. Currently she has just collaborated with DJ/producer/re-mixer Mike Cruz on her second house / garage track titled "I Try", premiering at The Winter Music Conference 2009. Lea's vision is to keep the creativity flowing and not to be put into a box that would limit her abilities as a Singer / Songwriter / Musician. In an interview with Next Magazine in NYC Lea states..."It's my job to be a chameleon, in a sense. Being able to write a good Dance song or a good Hip Hop track, Pop song or a good R&B song. I just want to do what I love and for me, if I don't have music, I don't have anything.
---