Kathy Sledge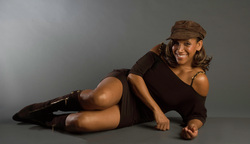 Born and raised in Philadelphia, Kathy Sledge is the youngest of five girls from Edwin and Florez Sledge. By age 6 she was singing songs with her sisters in perfect harmony. Who would have guessed that only 10 years later, she would record a song that would literally touch the hearts of millions around the world.

Kathy was born to perform. Along with vocal coaching and teachings from her grandmother, an experienced opera singer, her instinctive ability was bred from her father who was the other half of the legendary Broadway tap dance duo, Fred & Sledge. In addition to numerous performances for the congregation at their local church, Kathy's elementary school years were spent performing in clubs and at local talent shows. With rising popularity in the Philadelphia area, work around town was that the "Sledge Sisters" was the 'act to see'. A talent promoter contacted them to perform at a local cabaret and the rest, as they say, is truly amazing history.

Sister Sledge signed their first record deal with Atco Records, resulting in their very first No. 1 record in the UK 'Mama Never Told Me'. They went on to record their second international hit record 'Love, Don't You Go Through No Changes on Me' which landed at No. 1 on the Japanese charts. Following this Sister Sledge won the prestigious and highly sought after Silver Award at the Tokyo Music Festival.

After meeting Kathy and her sisters, hit songwriters Nile Rodgers & Bernard Edwards wrote and produced 'We Are Family' for them. The song and the album went on to reach No. 1 position on every imaginable chart all over the universe and also earned a Grammy nomination. That album also spawned two additional hit songs, 'Lost in Music' and 'He's the Greatest Dancer'. It's also interesting to note that Kathy recorded the lead vocals to 'We Are Family' in just one take. Sister Sledge went on to record double platinum success on their next several albums. Kathy's life would never be the same.

In 1992 Kathy recorded and released her very first solo album on Epic Records, Heart, which contained the No. 1 dance record 'Take Me Back to Love Again'. In 1995 she recorded one of her all time favorite songs, 'Another Star'. Originally recorded by Stevie Wonder, Kathy's version went on to become the No. 1 club anthem in all of Europe, including a stint at the No. 1 position on the pop charts in Italy. In 1997 Kathy teamed with Robert Miles and recorded the top 20 pop and dance hit 'Freedom.'

The start of the millennium was a monumental time for Kathy and her sisters. In addition to a Rock & Roll Hall of Fame nomination, Sister Sledge was voted by VH1 one of the most successful girl groups of all time, second only to the Supremes. In 2001 'We Are Family' was voted the No. 2 biggest record of all time.

Today Kathy finds herself as busy as ever. Over the years, in addition to all of the records and performances she starred in the hit musical 'Oh What a Night' to standing room only crowds through out Australia and the national gospel play, 'What Men don't Tell'.

She still performs selected shows with her sisters, whenever her exciting solo schedule permits. Her amazing ten piece 'live band' show consist of some of the most talented musicians ever to 'grace' the stage. (they are named below) The lead singer of the internationally renowned Sister Sledge, Kathy sang on popular songs including "He's the Greatest Dancer," "Got to Love Somebody," "All American Girls," "My Guy," and "B.Y.O.B. (Bring Your Own Baby)." And of course, her 'signature performance of 'We Are Family'! In 1992, she signed with Epic Records as a solo artist. Her first LP, Heart, featured the singles "Take Me Back to Love Again" and the ballad "All of My Love".

The remix of "Take Me Back to Love Again" became a No. 1 hit on the Billboard charts. After she left Epic, she recorded several dance hits on independent and foreign labels. These included a cover of Stevie Wonder's song, "Another Star", which became the No. 1 dance club record on the U.K. charts. She is currently working on a one woman show, "The Brighter Side of Day," based on the music of Billie Holiday.

Sister Sledge's appearances include Carnegie Hall and the Apollo Theater in New York City, as well as performances throughout Asia, Africa, Europe and South America. The group has sold millions of records worldwide.

With more than 100 awards and commendations for their superb work in the entertainment field, Sister Sledge has become established as one of the world's most successful female groups. In recognition of the outstanding musical achievements of Kathy Sledge, The Metropolitan College of New York was proud to confer upon her the degree of Doctor of Humane Letters honoris causa.. .

Kathy, along with her husband Phil (who has been Kathy's drummer since the band first performed professionally), has managed to raise two amazing children.

Nile Rodgers puts it best; "Kathy has one of the most original and unique voices in pop music. Always has and always will!

Kathy's "live band" is made up of the following musicians!

Philip Lightfoot (Drums), Joe Johnson (Percussion), Derrick Graves (Bass), Mark Walsh (Guitar), Mike Kwas (Keyboards), Suzanne Slaughter-Wingate (Vocals), Kristen Lightfoot (Vocals) and of course, Kathy on lead vocals!
---