K7 & TKA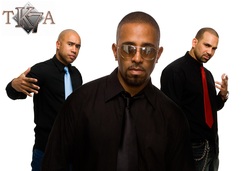 Kayel is the creative force and founding member of the hit groups TKA & K7. His songwriting skills, wittiness and infectious arrangements helped garner a Gold album spawning several huge international hits including the multi-platinum single "Come Baby Come" and the club anthem, "Zunga Zeng." He has scored multiple chart success with his hits "Come Baby Come", TKA's "Maria", "Louder than Love", and "Move it Like This". All of these songs can be heard on rotation on various radio stations around the world.

Both TKA & K7 songs have been synched to TV and Major Movie soundtracks such as Jim Carrey's "The Mask", "I Like It Like That", Bernie Mac's "Mr. 3000", MTV's "The Real World", "New York Undercover", Gatorade, VH1 Special "Stick it" and "Cop Out" starring Bruce Willis. As K7, Kayel has also performed on MTV's "The Grind", Showtime at the Apollo, The Arsenio Hall Show, The WB's 11 Morning Show, and the National "I Love NY" Commercial along with Marc Anthony. K7 has also worked as a radio station DJ and has had shows on Hot 97 FM & 103.5 KTU FM for over 11 years. Kayel continues to perform live as TKA & K7 respectively in major arenas such as Madison Square Garden, Mohegan Sun, Taj Mahal, American Airlines Arena, Nikon Theater to name a few while in the studio working on his unique style of music.

The new TKA single featuring Kayel's vocals is titled "Set It Off". "This is a record that I have been working on for a while. I wanted it to come out right. Like my prior hits, I have my hands all over this one. I'm passionate about it. It's fresh. It's New. Every time I hear it I want the whole world to hear it. It's a great come back record for me and the new crew in TKA" Says Kayel.
---