Justin Quiles

---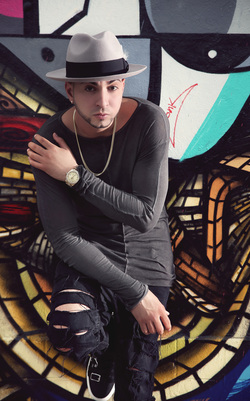 Justin Quiles is the promising new voice in the Latin urban-pop genre. Already starting to leave a mark in the Latin music industry, Quiles has composed music for other artists and has already released 3 singles on his own. During his short but successful career, Justin Quiles counts with millions of views on his music videos and has conquered the prestigious Billboard charts. His music has been heard through social media throughout Latin America and it is for this same reason that Quiles rose to fame in such a short period of time. This is only the beginning for the talented artist's career, the same person for whom a couple of years ago music was just a dream.

Justin Quiles, was born in Bridgeport, CT and raised in Aguadilla, Puerto Rico. At just a year old, Quiles moved to Puerto Rico with his brother and mother; who was escaping from the abuse of her husband. During this time, Quiles found music to be an escape from the real world and the struggles he was going through with his family. Quiles discovered his passion for music at 12 years old thanks to his brother with whom he would spend the day singing. After 13 years of living in Puerto Rico his mother decides to move to Orlando, FL in search of a better life for her children. In Orlando, Quiles graduates from high school and moves back to Puerto Rico where he lives for two years.

Quiles recorded his first song at 17 years old during a summer vacation in Puerto Rico. By this time, everyone was aware of Quiles passion for music and it was through his cousin that he met a friend who owned a music studio. Quiles did not waste any time as he immediately went in the studio to record 2 songs. After this summer vacation, Quiles returned to Orlando to finish high school, without forgetting about his passion for music.

In 2009, while he was living in Puerto Rico Quiles recorded "Se Safó" alongside Genio & Baby Johnny, this song became a social media sensation, garnering the attention of the Latin audience. The first time Quiles performed in front of an audience was at 18 years old in a 'Caserio' (government housing complex) in Aguadilla. Quiles overcame his fears and sang "Se Safó" by himself, after seeing the positive reaction from the audience, Quiles says to have felt like a superhero. He could not believe that through social media his music had become so popular that the entire audience knew the words to the song.

A year later, while living in Orlando, Quiles recorded his first official single "Algo Contigo" alongside the renowned music producer Lelo, who has worked with Jowell & Randy and Wisin & Yandel. The music video for "Algo Contigo" directed by Fernando Lugo, has gained more than 3 million views on YouTube. With this single, Quiles travelled to Mexico for the first time, it was here where Quiles had gained a strong following via social media. Once he saw the acceptance of the public, it served as motivation to keep going and create new music. After this success, Quiles captured the attention of music label, Rich Music, whom recognizing his amazing talent immediately signed an exclusive contract with the artist. The debut single alongside Rich Music was "Orgullo" which reached Top 20 on Billboard's 'Latin Rhythm Airplay' chart.

Justin Quiles will impact radio airwaves once again with his newest single "María". This new hit song has a fresh, energetic and catchy rhythm that will make it the song of the summer. Quiles is also working on his debut album "La Promesa". This album will include a fusion of international rhythms since the artist was inspired by various genres such as: urban merengue, reggae roots, reggaeton, tropical music, among others.


---