Julio Voltio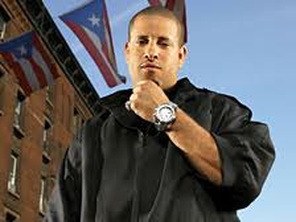 One of the most noteworthy reggaeton voices of the mid-2000s, Voltio worked his way up the ranks over the course of several years, expanding his reach with each successive release. Born Julio Ramos in Santurce, Puerto Rico, Voltio (Voltage en inglés) grew up in the Parque Ecuestre section of Carolina. Along with Hector Bambino and Rey 29, as a teenager he formed Masters of Funk, a rap group that never recorded any albums but one that helped plant the seeds for the impending reggaeton movement. When the members of that trio went their separate ways, Voltio partnered with Karel, and the duo billed itself as Karel y Voltio, appearing on some stray compilation albums and garnering label interest in the process.

The guys made their album debut in 2003, when New Records released Los Dueños del Estilo. The album languished, however, and the duo's enthusiasm dwindled. Elías de León -- the owner and founder of White Lion Records, the home of Tego Calderón -- liked what he heard, regardless of the album's poor performance, and he presciently offered Voltio a solo contract. The resulting album, Voltage/AC, was quite a breakthrough, spawning a big club hit ("Bumper") and "Julito Maraña," a popular song for which White Lion released an extended-form DVD video.

In late 2005 Voltio returned with his next album, a self-titled release issued by White Lion in partnership with Sony Norte. While Voltio included a few songs that had appeared on Voltage/AC, including the aforementioned "Bumper" and "Julito Maraña," it did feature mostly new songs, "Chulin Culin Chunfly" standing out among them. The album elevated Voltio's profile noticeably, ranking him up there among reggaeton's leading voices in terms of influence as well as popularity. Jason Birchmeier, Rovi.

---