Johnny Rocks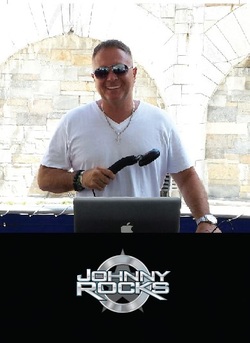 Johnny Rocks is a World Class Dance Music Producer, Club DJ & World Renoun Radio Mixshow Programmer. Johnny built his celebrity status mixing live for WKTU 103.5 fm (The Beat Of New York) for 11 years. Johnny Rocks is also a prominent Club DJ, guest appearing at various nightspots on the East Coast, TRi-State area and in Florida. Johnny's remixing and production credits are select, inking several deals to remix for Madonna, Cher, Celine Dion & Mariah Carey to name a few. Johnny Rocks has colaborated with some of the most talented producers in the industry; Joe Carrano, Mac Quayle, Valentin and Tony Coluccio.

Johnny Rocks (as Artist) just launched his new CD / Italian EP: Johnny Rocks "Dance With My Godfather"; A brilliant Dance Medley Remix of the music from the Godfather Movies. Alessandra of Naples Italy is the featured singer on one of the tracks ("Luna Mezz'o Mare"). Joe Carrano worked with Johnny on this intelligent Italian novelty production. Look for & buy Johnny Rocks "Dance With My Godfather" with bonus Track "Luna Mezz'O Mare" f./ Alessandra. Click on banner here or buy at: www.MySpace.com/DanceWithMyGodfather. Johnny also has his own production company & studio (Johnny Rocks Productions) located in Brooklyn NY, arranging and organizing all kinds of events relating to theatre & entertainment. Johnny's entertainers can be found on several Columbus Day floats during the NYC Columbus Day Parade every year. No matter the size of the party, Johnny Rocks builds it from the ground up with quality talent. Charities and Events for Children are arranged in delicate fashion. Johnny Rocks born in NYC & now residing in Brooklyn, Manhattan & Westchester, began his career in music at a very young age. Johnny learned to play piano and his Father taught him to play the Trumpet.

While Johnny wasn't singing in the school quior he was playing in the school band. He later was inspired to dance watching American Bandstand & Soul Train on TV. Johnny loved rhythm and so he joined the Arthur Murray School of Dance. Getting into Nightclubs and dancing to Disco music was exhilarating to Johnny. Music, dance and sound were a fixation and a release. It was a glorious time and so very inspirational to him at an early age that it's impact brought Johnny Rocks to the next level in the industry. By attending college Johnny was introduced to his first Radio show where he selected Disco and Soul on 12" Vinyl, 45's and LP's. Johnny began promoting and hosting parties and also programming the music for all his events during his college years. After graduating & getting his degree in speech communications, Johnny got into the DJ Booth at a Local Nightclub in Westchester and from there he honed his skills as a Club DJ and master programmer. Johnny went back to school to get his masters degree in Florida. While a graduate student, Johnny had an idea for his own radio mixshow. He took his idea to WAPE 95.1 FM and was hired by the program director (at the time) Jeff McCartney, now of HITS magazine.

Johnny had his own Dance Mixshow for 4 hours every Saturday night from 10-2am; It was called the "Saturday Night Power Mix". There were two parts to the show. Part 1 from 10p-12a was all Club and Dance music. Part 2 from 12a-2a called "Elation", was Underground House all styles; Trance, Tribal, Soulful House, Vocal Anthems, Breaks & Electro beat. Classic house & Techno was also programmed. Johnny, soon after became a radio personality on WAPE 95.1, now mixing and hosting the show (he'd for so many years) been programming. Johnny Rocks went on to hit over 71 number 1 Arbitron Rated books 18-34 F & Persons...His show was the number one most listened to show on Saturday nights for over 12 years. Johnny Rocks became a household name and popular DJ in Florida mixing it up at all the hottest venues in the city's Jacksonville, Daytona, Orlando, Ft. Lauderdale and Miami. Johnny spent several years as DJ resident for "The Edge" in the Rave scene thru the mid to late 80's and into the early 90's. Here Johnny played along side of Sasha, Micro, DJ Icey, The Chemical Brothers, Rabbit In The Moon, Keoki and Dave Cannalte to name a few. Johnny has arranged and produced posing tapes for many Bodybuilding champions including IFBB professional Body Builder & 2008 Mr. Olympia Champion Dexter Jackson. Johnny Rocks returned to New York where (while still programming his Florida Mixshow), Program Director Frankie Blue hired Johnny Rocks as a WKTU 103.5 mixshow DJ. Johnny mixed Level 1 of the "KTU Saturday Night Dance Factory" with Jellybean Benitez, Paul Oakenfold, DJ Scribble & David Morales.

Johnny Rocks went on to do many different mixshows at "KTU"...The "Afternoon Mix" with Hollywood Hamilton and Goumba Johnny, "Broadway's Bonus Beats" with Broadway Bill Lee, "The Studio 54 Clubhouse" with Joe Causi & Al Bandero. Most recent, "Midday Beats" at Noon with Diane Prior and the "Friday Night Dance Mix" 10-12 Mid with Jagger. Johnny Rocks was nominated Mixshow DJ of the year in 2004 for The New Your A.I.R. Awards. Today, Johnny Rocks appears as a guest DJ at various Nightclubs in New York and in Florida. Johnny also produces remixes for various artists and maintains a successful production company, "Johnny Rocks Productions". Johnny Rocks Productions organizes shows, theatre and events for creditable companies, organizations, children and the likely candidates that party. Johnny Rocks also does some select charity events, annually for The Ronald McDonald House, Heart Share Fund, Cancer Research & Cooley's Anemia Foundation. Johnny also appeared with Gloria Gaynor and Sister Sledge as a Celebrity DJ to benefit The G&P Foundation for Cancer Research; Denise Rich hosted the gayla "Disco And Diamonds" at NYC's Capitale.

---