Johnny Rivera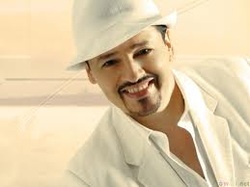 Johnny Rivera is a native New Yorker born and raised in the South Bronx. After graduating from high school, Rivera moved to Puerto Rico where he began to sing with a local group. Inspired by his uncle, Adalberto Santiago, Rivera began to show a strong desire to flourish as a Latin singer and learn all the aspects of the salsa sound.


Shortly after his arrival to the island, Johnny returned to New York and began working with Johnny Colon's workshop band at the East Harlem Music School. He continued to study and improve his singing technique and before long, the singer joined forces with his uncle Adalberto Santiago y La Orchesta. Once he had the backing of the band, Johnny Rivera showcased his creative talents with his first album, Noche Caliente, Vol. II.

In 1980 Johnny Rivera was offered the opportunity to record with several Latin bands which placed him on the music industry radar, including a young up-and-coming band, Grupo Fascinacion. During the four years Rivera worked with Grupo Fascinacion, he recorded three additional albums. Later, Rivera also received the opportunity to join Conjunto Clasico as the band's featured singer. He recorded two albums with Conjuncto Clasico before departing for his solo career. To record his debut solo album, Ahora De Verdad, Rivera headed between Puerto Rico and New York. The album, produced and arranged by Sergio George, contained the Frankie Valli hit, "My Eyes Adored You," in English, the hit song "Necesito Una Amiga", plus the popular salsa versions of "Esa Chica Es Mia" and "Como Fui A Enamorarme De Ti". The salsa singer then recorded his second album, titled Encuentro Casual. The first single from this album, "Te Regalare," became a smash hit upon its release. In 1993, Johnny Rivera recorded his third album, Cuando Parara La Lluvia, which featured three hit singles-"Cuando Parara La Lluvia," "Por Eso Esta Conmigo," and "Voy a Conquistar Tu Amor." Cuando Parara La Lluvia earned platinum accolades shortly after its release, and made a worldwide impact.

Rivera made a name for himself at New York City's Madison Square Garden, during two "Combinacion Perfecta" concerts, where he sang a duet with Ray Sepulveda entitled "No Vale La Pena". This single is included in the Combinacion Perfecta compilation, and the popularity of this live performance has contributed to the overall success of the record. At the start of 1995, The "Combinacion Perfecta" production included Johnny Rivera in its worldwide tour. He performed for 300,000 fans in the cities of Bogotá, Medellin, Cali, and Baranquilla during the tour's production in Colombia. Rivera also participated in the prestigious MIDEM convention in Cannes, France, in addition to performing in Paris. Rivera concluded his tour in Los Angeles at the annual Radio y Musica convention.

During the last few years, Johnny has continued travels around the world as a salsa sensation, appearing at special music events in Puerto Rico and in Latin America. He also performed in concerts with other prominent singers such as Jerry Rivera and Tito Nieves. In Panama, Rivera performed at a Teleton Projecto 911 and at various casinos around the country. In 2006, Johnny participated as a guest artist in Isidro Infantes Dance Mania, where he sang a re-mix of the song "Salsa y Control" in tribute to the Lebron Brothers. He also recorded with La Nueva Combinacion, and teamed up once again with Ray Sepulveda for a duet in tribute to El Gran Combo, the track "Son Para Ustedes" composed by Charlie Donato. A seasoned veteran, Johnny Rivera's return as a salsa legend is expected to surpass the success of his past musical efforts. With a resume that boasts accomplishments that only a man of his caliber and expertise could showcase, Rivera's new home at CMG and new production Vivo Por Ti will be sure to place him once again at the top of the charts in the United States, Puerto Rico and Latin America.

When obstacles halt the creative process, an artist is guaranteed to have a wealth of material to be inspired from. For salsa singer Johnny Rivera, the breast cancer diagnosis his wife received put a temporary stop to his music career in 2006. Johnny Rivera put his family first and let his creative juices rest on the backburner while he stood by his wife's side until she made a full recovery. Today, the Puerto Rican salsero, who has more than 25 years singing experience behind him, makes his return to the salsa movement with his ninth solo album, Vivo Por Ti in stores May 8, 2007. Spending the last three years recording his latest effort, inspired by the struggle and strength of his wife, Vivo Por Ti (in english translates to I Live For You) consists of 12 songs, the majority which were produced by Johnny Rivera.

The album's hit single, "Dicen," is a salsa track written by songwriter Juan Fernando Velasco and arranged by Ceferino Caban. In just one week, "Dicen" debuted at #41 on the Billboard Latin Tropical Chart. Vivo Por Ti, an album released under Coalition Music Group distributed Universal /Motown, showcases the performer's exceptional vocal abilities and strengthens his hold as one of today's respected salsa artists.
---