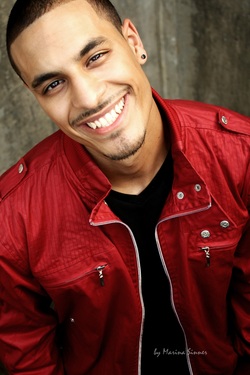 Jason Cerda is the definition of a new multicultural era of music. His fusion of Pop and different genres of Latin music has left every one of his fans anticipating his newest project. A native of Washington D.C., Cerda combines his Puerto Rican and Dominican roots with today's popular beats to take over the new "TropiPop" genre. However, he's not just known for his amazing vocals. His high-energy shows and gravity-defying choreography have made him one of the most memorable performers to come from the DC metropolitan area.

From the beginning of his introduction to the world of music, Jason has made his mark with his infectious energy, attractive image, strong vocals and his ability to fuse these rhythms, relatable to his generation of multicultural and bilingual millennials born in the US but of Hispanic heritage. "When you enjoy the fusion of all these energetic sounds, you're bound to have a good time!" comments the singer.

Singing and writing in both English and Spanish has given him the ability to reach a wide fan-base all over the world. Jason's beautiful smile and charming eyes have not gone unnoticed either giving him the title of one of DC's sexiest bachelors by Inside Edition. Deriving from his Latino heritage and deep admiration for Michael Jackson, Cerda fuses Pop and R&B melodies with Latin beats. With a 2010 debut album, Til the Last Beat, and breakout track, "Addicted," under his belt, Jason Cerda has already shared stages with such renowned artists as Daddy Yankee, Arcangel, Plan B, Yandel and J Balvin.

Billboard, one of the music industry's most prestigious publications, highlighted Jason Cerda as one of the top 5 new artists to lookout for in 2015. Jason's talent has been compared to some of music's biggest artists in music and outstanding choreography such us Usher and Justin Timberlake, a comparison that is not in vain.

Jason's charm and charismatic ways won him the public's vote when he was selected as one of three developing artists winning a slot to perform at one of the country's biggest summer concerts, the Uforia Music Festival at Exposition Park in Los Angeles. The singer got to perform on the "Emerging Artist" stage and not only did he win, he was selected by Subway to be their official "Artista Fresco" artist and was part of a lineup that included big artists like Ludacris, Camila, Nelly, J Balvin, El Dasa and Becky G, among many others. Jason has also performed at other key and notable events in the Hispanic community such as the Puerto Rican Day Parade in New York, Fiesta DC in Washington DC and the world famous Calle Ocho Festival in Miami.

His new single, COLOR FAVORITO is destined to follow in the successful footsteps of AL LADO MIO, Jason's debut single in the Latin genre. Written by the artist himself and produced by D.O., the single reached the top 10 in Billboard's Latin Rhythm Airplay charts and Top 25 in the Tropical Airplay charts.



Music is available on iTunes, Amazon, Pandora, Spotify and all major music retailers worldwide.


---