ICONic Boyz – Americas Best Dance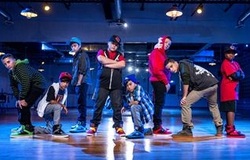 The ICONic Boyz were founded in 2006. Today, they represent the next ICONic generation of performers. Often referred to as "the boy band of dance", the 15 member crew is living proof that young dreams can become a reality- especially for millennial males on a quest to learn how to dance. With a lifestyle fueled by endurance, courage and self-confidence, this remarkable teen hip hop and street jazz dance crew reveal that dancing at a young age can in fact, be iconic.

Donning signature ICONic Blue gear and distinctive crew cuts with buzzed designs, the ICONic Boyz have become one of the most recognizable new talent sensations in today's dance arena.

Their Artistic Director is none other than GEO Hubela, founder of ICONic Dance Crew from Season 1 of Randy Jackson Presents America's Best Dance Crew. GEO paves the way as their mentor and role model with one-of-a-kind choreography, exclusive opportunities to perform and positive morals originating from his motto, "Be ICONic."

The "Be ICONic" motto has been handed down to the ICONic Boyz as the notable philosophy that stirs up motivation to set goals and follow through. The Be ICONic motto is beginning to fascinate fans and dancers throughout the world due to its optimistic message and growing popularity.

The ICONic Boyz have a home base at ICON Dance Complex located in Englishtown, NJ. Rehearsals, master classes, workshops and events are all a part of their weekly training under the roof of the 5,000 square foot state-of-the-art studio space.

This is THE YEAR of the ICONic Boyz. You may have seen them take the stage at Madison Square Garden, the Apollo Theater, on Paula Abdul's Live to Dance and on MTV's America's Best Dance Crew. What's next? Be prepared for an ICONic revolution in dance- The ICONic Boyz are the new ground-breaking teen dance ICONS.

Welcome to the world of The ICONic Boyz.
---