H Boogie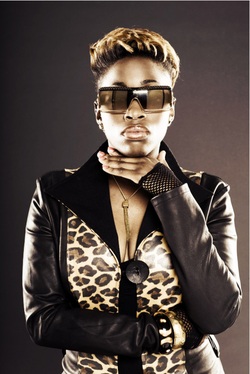 I want my music to be timeless" asserts twenty-six year old singer-songwriter Haidara Swaray, aka H-Boogie. Hailing from Hammersmith, West London, H is set to make her mark in 2010 as the statuesque new first lady of soulful British Pop music, sitting in the unexplored space where The Eurythmics meets Soul 2 Soul.

H-Boogie's first steps into the music industry began at an early age. Born to Senegalese and Grenadian parents, her father, a drummer, played for the late Lovers Rock legend Louisa Mark. She attended her local Pentecostal church weekly from a young age, where she was part of the children's gospel choir. Outside of church, H-Boogie's musical influences came from her fascination with 80s power ballads by Bonnie Tyler and Jennifer Rush and the showmanship of Queen, The Eurythmics and Michael Jackson. Then her Aunt's record collection schooled her in classic soul artists like Stevie Wonder and Anita Baker. "Rediscovering music is exciting" says H of the childhood classics that created her pop consciousness.

In the late 90's, H's first music industry experience was a vocal group with her older sisters Estelle and Khadi, their two cousins and a close friend. The group was called Swarae playing on the family's shared surname. At the beginning they covered R&B hits by the likes of Boyz II Men, however shortly after formation Estelle left the group to later on become one of UK's hip hop stars. The group went on to write their own songs, produced by long time collaborator Myx Quest and ran for 3 years, performing around London and winning talent shows.

Now H is stepping up to the limelight with her own flavour. "Growing up Estelle was always interested in Rap and R&B where as I always loved huge pop songs and playing my Casio keyboard". Getting ready to launch her first solo single on Island Records, H-Boogie has previously lent her heavenly vocals and talent for writing top lines to other stars of the dance and urban universe. Bashy experienced her female foil and sound on his disco flavoured single 'Your Wish Is My Command'. She also sung on 2007's massive 'Love Has Gone' by Dave Armstrong and Redroche.

Her background in Gospel, Pop and R&B means that no matter how futuristic the machine funk on her records, she's singing from the heart. "When I write it's meaningful. It's not just aimed at the dancefloor". H describes her sense of style as a 'futuristic punk Rebel affair' blending together a load of movie, fashion and music references from Vivienne Westwood swashbuckling-chic to 80s dystopias like Mad Max.

2010 has found its boldest female with the power and the poise to tip riotous new colours over pop "I'm going to make this year my blank canvas".
---