Gyptian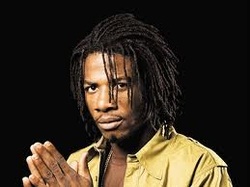 Windell Beneto Edwards became the singer known as Gyptian when he left his rural home in St. Andrew, Jamaica, and traveled to Portmore, the town where the promoter known as Mr. Wong ran his studio. Gyptian had grown up singing in his mother's Adventist church and listening to his Rastafarian father's music.

His father had been a promoter himself for a time, so he understood the grooming and networking that would be involved in turning Gyptian's passion into his profession. His parents trusted Ravin Wong, having seen the promoter turn many an unpolished talent into reggae stars, I Wayne being a recent example.

Under Wong's direction, Windell became "Egyptian," then "I-Gyptian," and finally just Gyptian. The smooth singer was eventually presented a song that would suit his conscious upbringing, "Serious Times," and after adding his own verse to it, he cut the track in Wong's studio. Combining hypnotic nyahbinghi drums with lyrics that plead for an end to violence and crime, "Serious Times" exploded across Jamaica, putting Gyptian in the company of Jah Cure and Fantan Mojah, two other artists who were becoming popular by fighting for peace and justice in a roots reggae style.

By the time the single had become a Jamaican number one, numerous producers were contacting Gyptian in hopes he would appear on their tracks, but the roots-minded singer refused most of the offers since their lyrics were filled with gun talk and misogyny. After being presented with enough socially conscious music and old-school lovers rock to fill a full-length, Gyptian made his debut in 2006 with My Name Is Gyptian on the VP label. Two years later he returned with I Can Feel Your Pain, an album heavily influenced by contemporary R&B.


---