DJ Giuseppe D.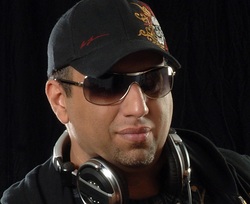 Giuseppe Di Caccamo, Jr. (pka Giuseppe D. aka Pepe) has developed into a talented and well-respected producer—but his path in the record industry has truly been an evolution. Since the late 1980's, Giuseppe D. has acquired various studio training and experience in addition to the development of his musical knowledge and natural talents which all have contributed to him perfecting his craft.

Although "Pepe" was born in Weehawken, NJ of Italian/Colombian descent, he spent his teen years living in Miami, FL. During that period, he developed relationships with producers like Lewis Martineé (Exposé), Ish (Foxy, Company B), and Tolga Katas (Stevie B and Linear). It was through these relationships in which Pepe developed his passion for music and his interest in studio production. In fact, it was his friendship and collaboration with Katas which would lead to the release of his very first record, "One Love" by Tony Marino (Futura).

In 1991, Pepe moved back to New Jersey to further pursue his career by enrolling at the Center for the Media Arts to fine tune his musical and technical knowledge. It was during this period that he began to explore doing some of his own production work. His production of "I Could Be This…" by Androgeny feat. Michael M. (Strictly Rhythm) became a major house hit in the US and a pop hit in the UK and abroad.

Soon after the Androgeny hit, Giuseppe followed that up with his Billboard Chart-topper "Descarga!" by LatinXpress (RAM/Popular) in 1993, which caught the attention of legendary producer Tony Moran. Tony was so impressed with his work, he hired Pepe as an in-house producer and programmer. While working with Moran, Pepe continued to develop and perfect his skills. As he mentored with Moran, he had the pleasure of working on some major artist releases including The Real McCoy, Jon Secada, Cyndi Lauper, Luther Vandross, Gloria Estefan and Celine Dion.

After his tenure with Moran, Pepe began to explore new territories—He branched out on his own as a remixer/producer and formed new collaborative partnerships with such legendary producers as Jonathan Peters and Soul Solution. Pepe worked on a series of chart-topping singles such as "Dark Beat" by Oscar G. & Ralph Falcon (Twisted), "Give It Up" by Kevin Aviance (Emerge), "They-Say Vision" by Res (MCA), which continued to build up his name as a force to contend in the dance arena. He also continued perfecting his talent for remixes in the Latin market, by working with such top Latin artists as Juanes, Luis Fonsi, the late Celia Cruz and Elvis Crespo. It was with Crespo, that Giuseppe would be scoring one of the biggest hits of his career with the worldwide hit "Suavamente" (Sony Discos).

Giuseppe's eye for talent was validated at the beginning of the millenium when he was asked to join the team at Robbins Entertainment as an A&R rep in January of 2000. During his over ten-year employ at Robbins, Pepe was responsible for grooming and working with such acts as Cascada, D.H.T., and Reina, where he often did production work with the acts. While working with Robbins, Pepe decided he would form his own company, Trina Enterprises LLC, which would house both Hothead Recordings and Monitor Sound Recordings, providing him with outlets for showcasing and releasing some of his own material and productions.

As his reputation for quality production work continued to solidify, in early 2004, he was asked by Koch Records label executive, Dee Sonaram (whom he'd met during his initial term at Robbins), to work with "American Idol" Season Three castoff, William Hung. Although Hung seemed an "unlikely" artist for Pepe to collaborate with, he saw it as another challenge on the ladder of his developing career. The first album, Inspiration, was released in April 2004, with Hung's continued popularity and quite a bit of press attention, the album debuted and peaked at #34 on Billboard's Top 200 Album Chart and reached #1 on Billboard's Top Independent Album chart. The album has scanned nearly 300,000 units to date, and led to another production opportunity to work on Hung's holiday album later that year. Hung for the Holidays followed in October 2004, with third album, Miracle, to follow in July 2005.

More recently, Pepe has done remix and production work for a host of female divas, one of them being, Whitney Houston. He was asked to remix the title track of her #1 multi-platinum worldwide charting album, "I Look to You". During the promotion of the track, the record label unfortunately shifted focus to a new cut, and preempted it from achieving the heights of success that it could have achieved. Never discouraged, Pepe met another exciting female recording artist who would once again broaden his focus as well as his many talents.

In early 2010, Pepe began working with openly gay recording artist, Lori Michaels, who had released various records to the alternative lifestyle audience, with mixed success. They collaborated on a couple of tracks, the first being the raucous and beat-driven record, "Rebound". The record got released on Pepe's own Monitor Sound Recordings label and soon found itself climbing the Billboard Dance/Club Play Chart in August. "Rebound" reached the Top 15 on both the iTunes Dance Chart (#14) and Billboard Dance Chart (#13).

The relationship with Michaels blossomed, and soon he was introduced to a close "friend" of hers, Danielle Staub, who had a starring role in Bravo's high-rated reality television series, "Real Housewives of New Jersey". This meeting led to the three of them collaborating on a duet record for Staub and Michaels entitled, "Real Close", which was released (and performed) in time for the show's Season 2 reunion, leaving speculation as whether or not she would return for Season 3. The duet was performed live on several television programs including, "The Early Show" on CBS, the syndicated "Maury" talk show, and premiered on Bravo's own, "Watch What Happens: LIVE!".

Giuseppe's production calendar is currently booked solid until well into 2013, where he continues to venture into uncharted territories while accepting more challenging music and production projects.


---