Giorgio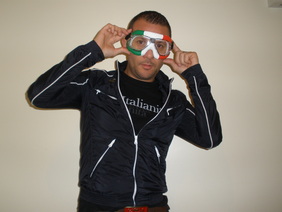 Giorgio began his early music career with the group Z-SIDE in Italy.

He was the lead singer and song writer for the group and they released the song, "Get Dis Feeling" on Flying Records (one of Italy's largest independent record labels). The single charted and was reviewed by various magazines including Billboard.

Giorgio was also the opening act for Corona, who sang the 90's dance anthem, The Rhythm of the Night, on several performance dates, internationally.

In 2007, Giorgio signed with Robbins Entertainment and released his single "Sacalo" which scored Top #3 Pop Single in Finland.

In 2010, Giorgio recorded the cover version of "We No Speak Americano", a modern day novelty dance hit, originally recorded by Renato Carosone, under the title, Tu Vuo Fa' L'Americano.

Giorgio is currently touring the World, performing his hits. Giorgio is currently working on his second album and collaborating with various Pop producers in the U.S. and Europe.

---