George Kane aka L.A. Hef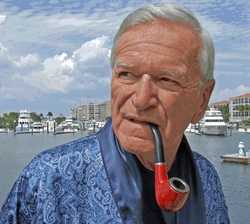 George Kane is an individual who has worn many different hats during his lifetime. In his High School Yearbook there is a caption which states "You are a devil at everything, but there is nothing that you cannot do."

Since that time George graduated from the University of Notre Dame. As a former Interstate 75 Road Ranger, Mr. Kane became a local hero for pulling a young girl out of a burning car. Mr. Kane is also proud to have been a high school principal in North Syracuse, NY. On his leisure time, Mr. Kane enjoys being a 100 ton masters boat captain, a motorcycle enthusiast and a SCCA certified racecar driver racing at Daytona Speedway, Sebring, Homestead and Palm Beach among many others.

As a Hugh Hefner lookalike he has traveled the world winning such awards such as "The Mirror Image Award" over an impressive array of lookalikes from around the globe such as Madonna, Dr Phil, Sean Connery and many others.

Mr. Kane is no stranger to the Playboy Mansion which he has graciously visited. He is exceptional in his role as a Hugh Hefner lookalike and is consistently asked back to the different venues he has appeared at. 99% of the people think he is the real thing.

If you can't get the real Hef to attend your event, George Kane is the next best thing.
---