Felix Sama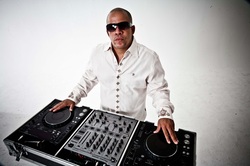 A typical DJ Sama spinning gig ranges from celebrity parties to full out concert performances. Currently, DJ Sama is touring nightclubs throughout North & South America, the Caribbean, and Europe. His intense energy guarantees a high quality customized entertainment experience. The Personalized service that is given by DJ Sama will ensure that your event runs smoothly from start to finish. Be sure to book DJ Sama in advance to host and spin your next event for the "BOMB" party. You might even get your event featured on Felix's hit show "The Roof" featured on Mun2 TV.
TV Host & Actor

As host of the TV show "The Roof," DJ Felix Sama leads viewers on a two-hour live, interactive tri-city connection joining New York, Los Angeles and Miami into one giant block party. Featuring video remixes by renowned dj's, a daily countdown of the hottest hits, the latest music news, and a block of time dedicated to the best Latin dance music, The Roof is a heady experience that will have you shaking in your shoes!

Get ready for a symphony of sights, sounds, and the hottest music videos that leave viewers wanting more every week. "The Roof" is a "Span-glish" show that targets and appeals to the 12 and over demographic in the U.S., Latin America, and the Caribbean. "The Roof" has a combined audience of over 27 million viewers. DJ Sama has also carved out a niche for himself in acting and has been featured in cameo roles with artists such as Wyclef, Fat Joe, and several other top celebrities.

Radio Host

Felix's experience and instinctual talent comes with over 14-years of radio experience working for stations such as Miami's Hot 105, Power 96 and Salsa 98.3. He has maintained top-ratings working morning drive shows and performing on his own "mix" shows. Felix is not only an on-air personality, he also possesses technical skills that range from radio mixer to board operator, enabling him to produce his own features and segments. Currently, Felix can be heard on the Sirius Satellite Radio Network mixing on The Bugsy Morning show and various other Hip Hop channels within their network.

Music Producer

As a Record Producer, Felix has recently re-mixed Jamz compilation album featuring some of today's hottest Latin reggae artists including Ivy Queen, Daddy Yankee, DJ Nelson and Trivales. Felix's work with Little Joe Records artists 2 Live Crew is nothing short of legendary. Felix has also aligned himself with Shalim, from the renowned Emilio Estefan camp of artists as well as Latin sensation Monchy Y Alexandra, from J&N Records, featuring the re-mix track "Te Quiero Igual Que Ayer." Felix is always on the lookout for potential rising stars for his production company, AMAS Productions. Felix's current project is a new style "R&B," featuring female vocal sensation "Vida," whose album will be released in the spring of 2004.

DJ Instructor

In a whirl wind of events and projects DJ Sama also finds the time to teach up-and-coming DJs the mixing and scratching skills they need to become professional DJs. Felix Sama is not only a mentor to these up-and-coming DJs but, in addition, teaches these beginning DJs the art of mixing and scratching from Mobile to Club to Radio. Peavey Electronics and PCDJ endorse his DJ school, providing professional audio gear for all courses. Catch Felix's instructional video that will hit stores in February 2004.

---