Ethan Butler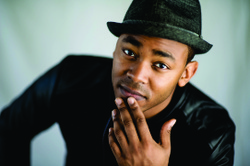 Chicago-born and raised pop singer and instrumentalist and songwriter Ethan Butler, who came to the public's attention when he was a contestant on season 7 of NBC's The Voice in 2014, showed an affinity for music even as a child.

Growing up in Chicago with a father as a music pastor, he was drawn to leading music in the church after he received his first guitar on his 13th birthday. Over the years Ethan gleaned from the musicians and singers he was surrounded by in the church, but behind the closed doors of his room, he wrote and began to find his own voice within music.

After years of serving within the church, Ethan ventured off to be an interim worship leader a church in 2012, but quickly realized that his dream and passion was to pursue a career in main stream music.

So in 2013, by the prompting of his father, Ethan put on a career kick off concert at Armitage Baptist Church in Logan square. With an audience of +300 and a successful show under his belt, he stepped beyond the church doors and began his rapid upward climb.

From open mics like Uncommon Ground, to headlining nationally known stages like The Metro and The House of Blues in Chicago, to scoring a spot on Team Adam of NBC's The Voice, Ethan is on a sure path of Success.

---