Elvis Crespo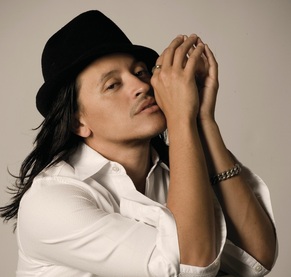 The title says it all. Elvis Crespo's success happened in a flash and wow!. That's the best way to describe it. In a short time his name and his unique musical style became synonymous of what the new generations of Latin artists are presenting in this new millennium. After selling more than 3 million copies of his first two solo recordings, Elvis was clear that his new album had to be superior to everything he had done. "Wow Flash!", Elvis Crespo's third solo recording for Sony Discos, is a clear demostration that this talented singer - songwriter is not resting on his past glories on his way to the top. His path to stardom continues with a superb production that showcases his versatility and creativity. It also proves that Elvis is willing to explore new musical arenas in order to grow and mature.

Elvis's ability to make music that is accessible has been his trademark and stake to conquer Latin America over the last three years. Simple lyrics, rich harmonies and pulsating rhythms have been his presentation card. If "Suavemente" and "Pintame" have tapped on the pulse of the Latin Nation, it's because this singer has been willing to go the extra mile to show that Puerto Rico has become the melting pot of a new brand of merengue.

"Wow Flash!" is the continuity and expansion of a musical style that is nurtured from the simple things of life. It's a rhythm that enters your feet and exits through the mouth of your soul. From the first track, the title song, Elvis sends a message that is loud and clear: that he is going to be around for the long haul. Not only do the syncopated choruses and musical hooks capture you, but also you noticed that you couldn't escape the spell Elvis casts on the listener.

Everything has been like a FLASH for Elvis, given the velocity of his success. Elvis is here today; tomorrow he was all over the world. In his late twenties, Elvis has been a model of consistency. At the tender age of 17 he gave his first steps at the Willie Berrios Orchestra, which eventually led him to the superstar group Grupomanania. His life has been highlighted by his willingness to risk and take the steps that separate the stars from the wannabes.

"Wow Flash!" is a firm step for Elvis. What began with his second album, Pintatame, as an exploration of different musical styles, on this new production Elvis takes it to the next level. Two songs where recorded in pop and ballad versions; "Wow Flash!" and "No Me Olvidaras". Thirteen songs were chosen to be part of this album that from top to bottom confirms that Elvis is on the right track.

"Cuando Me Entrego Al Amor", penned by Grammy Award winning composer Omar Alfanno, is clearly one of the most personal songs Elvis has ever vocalized. "When I give my all to love my own life is at stake. I'm only a human being with its share of virtues and flaws"; he belts out with passion and heart. Combining the bachata rhythm with the son montuno.

"Wow Flash!" places Elvis in touch with a very select group of composers. Omar Alfanno, Alejandro Jaén, Raldy Vázquez, Rodolfo "Nava" Barreras, Richard Mercdo. Elvis, who also colaborated with a few songs of his own handed the productions chores to Jan Duclerc who brought the fusion of new sounds and rhythms, without leaving behind Elvis's trademark essence.

With over a dozen Platinum and Gold albums for his two previous recordings in over a two year period, Elvis has become a household name everywhere from Spain to Brazil, where he has just completed a Portuguese version of "Suavemente". That sound and voice is what has made Elvis the hottest name in tropical music today.

In "Wow Flash!" Elvis and producer Jan Duclerc were very aware and consistent in bringing fresh sounds to the studio. "Mares De Emocion" is a blend of samba and Merengue. "Bella Flor" goes for the tango-flamenco-Merengue combination with a tad of dance rhythms. "Mi Sol, Mi Luna" is pure Elvis. This last song is reminiscent of his classics "Suavemente" and "Pintame". "Me Mata" is Merengue with a very subtle guitar prelude. "La Noche" has a flare of cante-hondo from Spain that leads in to a merengue-bomba arrangement.

"No Me Olvidaras" is simply the best vocal performance Elvis has recorded in his brief yet successful solo career. It is the manifestation of an artist that is restless in his desire redesigning himself and his musical style. The pop version of "Wow Flash!" closes the album that undeniably describes what Elvis Crespo and his meteoric success have been all about.

There is no doubt that "Wow Flash!" is the most ambitious and most challenging recording for Elvis to date. When you listen to "Wow Flash!" it is evident that Elvis has completed the most significant album.
---