Dennis Rodman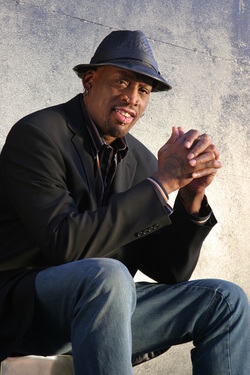 Dennis Rodman aka "Dennis the Menace", "The Worm" and "Rodzilla" is a 5x NBA Champion, 2x NBA All-Star who will go down in history as one of the best defensive players to ever play in the NBA.

He is a notorious bad boy known for numerous controversial antics. From his famous piercings/tattoos, to his high-profile affair with Madonna to his marriage to Carmen Electra to becoming a professional wrestler fighting alongside Hulk Hogan, Rodman is in a league of his own.

He was the star of his own MTV show, The Rodman World Tour, and had lead roles in the action films Simon Sez and Double Team alongside Jean-Claude Van Damme. Rodman has appeared in several hit reality TV shows and was the winner of the 2005 edition of ABC's Celebrity Mole.

He has also made appearances on 3rd Rock from the Sun, Celebrity Big Brother UK, and is the winner of Hulk Hogan's Reality TV show Celebrity Championship Wrestling title defeating other challengers such as Butterbean and Dustin Diamond. In 2009, he appeared as a contestant on Donald Trump's highly rated Celebrity Apprentice. Rodman is now ready for the next step as a celebrity DJ / Host alongside his partner DJ Vic Latino.
---