De La Ghetto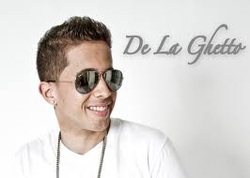 Rafael was born in New York and raised in San Juan, Puerto Rico. He was born to a Dominican father and Puerto Rican mother, and he later found out that he is of Chinese descent from his maternal grandfather.

In 2004, he collaborated with reggaeton artist Arcángel (born Austin Santos) to form the duo Arcángel & De la Ghetto; the group debuted with the single "Pégate", which was featured on Naldo's mixtape Sangre Nueva in 2005.

He along with Arcángel signed to Zion's label Baby Records, and have appeared on numerous reggaeton albums including the compilation Mas Flow: Los Benjamins. In 2006, De la Ghetto began his solo career and appeared the next year on two hit singles, the remix of "Siente el Boom" by Tito el Bambino and a collaboration with Randy, "Sensación del Bloque". De la Ghetto's solo debut album which has been watched on Youtube over 26 million times. Masacre Musical was released in 2008. Masacre Musical peaked at #46 on the Billboard Top Latin Albums chart in the U.S. its single "Tu te Imaginas" peaked at #33 on the Billboard Hot Latin Tracks chart.
---