Dana Rayne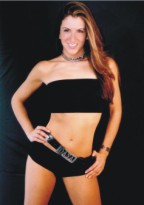 Born in Long Island, New York, this Italian American singer/songwriter has always been a natural talent. Dana attended Hofstra University and recently graduated with a B.S. in Music Business.

Her passion, professionalism and powerful emotion on stage has earned her a place amongst music's elite when her first single "Object Of My Desire" (Incentive/Ministry of Sound) hit the UK charts and topped at #6 on the Top 40 Pop chart and #3 on the Top 40 UK Club Chart.

Dana's new Pop/CHR Rhythmic Hit Single "Overload" (Robbins Ent.) was Produced by Ari Lehtonen and Tune~Adiks and features remixes by today's hottest UK remixes; Buzz Junkies. "Overload" is sure to flood the radio airwaves and nightclubs this spring 2010. With the release of "Overload", Dana is in the studio working on her album which already features collaborations with Jeannie Ortega, Lucas Prata, Dose of Fulanito, plus several other surprise guests.

Dana is also known as the new member of the multi platinum group La Bouche, singing all of La Bouche's multi-platinum hits "Be My Lover" and "Sweet Dreams" just to name a few, with founding member Lane McCray. La Bouche has been traveling around the globe singing all of their world renowned songs.

This Pop/Dance artist is taking the industry by storm with her explosive voice and warm spirit. "Blame It on the Rayne", "Kiss the Rayne" or "Singing In the Rayne", however the Rayne makes you feel you never forget it.
---