Company B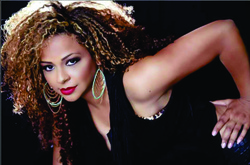 Susan Maria was born on July 1, into a Military family. Her dad being in the Army and brother in the Air Force. This became her first exposure to a structured lifestyle. From an early age she began taking ballet and tap which led her parents to believe she would become a performer. When she was four years old she landed a spot on the Nationally televised children's show "Romper Room". In High School she entered numerous talent shows, all which prepared her for her future endeavors. In her last year of high school she tried out for the mock wedding at her school, and was chosen out of all the girls in school. This became a controversy because it was the south and she was black and he was white. It ended up in the local newspaper. Due to a lot of ups and downs in her life, she learned to have thick skin, eventually she decided that once she was able to move out on her on she would move to Miami where there were more opportunities.

Miami and all of South Florida became a paradise of opportunities for her. While pursuing her modeling and acting career. Susan landed an audition to become a backup singer for Ish Ledesma (former lead singer of the group "Foxy". Ish was so impressed with the ladies that were selected as backup singers that he decided to form a female group which became "Company B". Their hit single "Fascinated"was released in 1986 on indie label "The Summer Records". The song created so much buzz in clubs around Miami that it soon made its way to local radio stations, this in turn led to it being picked up and re-released by Atlantic Records. With a much wider distribution, due to its major label (Atlantic) backing. "Fascinated" received significant radio and club airplay in all major cities throughout the U.S. and reached number one on the U.S. Hot Dance Club Play chart and crossed over to pop radio, peaking at number 21 on the Billboard Hot 100. Today, it is regarded as a dance-music classic. The trio was best known for this single, as well as its platinum wigs that were initially a part of the group's image. The single did so well that the group was signed to do a full length album. The album was released in 1987 on Atlantic Records. Company B went on the road for two years. Then later some of the members were replaced. After much urging by fans and friends, Susan decided that since she was one of the original members that she would return to the stage.

In Susan Maria's spare time she continues to build her modeling, acting and performing credits. Most notably, print ads for Pearl Collection Hair products. Kalik Beer in the Caribbean, spokesperson for King Cobra Malt Liquor, Food Lion Supermarket commercials, and a few motion pictures, along with her entertainment career. Currently she is working on a new Album that should be released sometime later this year. Susan decided to show her support to the US Military by dedicating all of her shows and performances to the US Troops. In fact, their are plans in the works to organize a USO Tour. As a military spouse, Susan has chosen to reach out and support other military families in her community. All in all her love and respect for God and Family, is what's most important to her. Her husband, Francisco, and their three children, Emilio, Myles and Gabrielle.
---