Colby O'Donis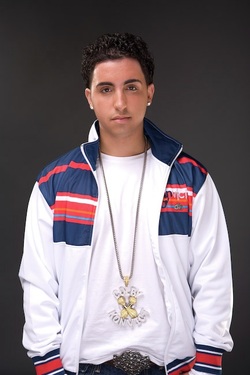 Colby O'Donis – a young, handsome singer, songwriter, musician, producer, dancer and all-around entertainer – perhaps a child prodigy who didn't get his break into the big league until now.

At the age of 19 and signed to Akon's KonLive label, Colby is generating a great deal of excitement with club DJs, on the radio and internet with his first single, "What You Got" featuring Akon, taken from his debut titled, Colby O. He is already a hit on the road—performing to packed club venues in Southern California, the Bay Area, Bakersfield, Las Vegas, Detroit, and San Jose, Calif. (where he recently performed to a for- women-only audience); while the single has already broken at stations such as the venerable KPWR-FM [Power 106] in Los Angeles.

Born in New York City to Puerto Rican parents, Colby spent a great deal of time during his childhood living in Orlando, Florida—arguably the country's haven for breaking teen artists. By the age of 9, he was already working with Platinum producers Full Force [Lisa Lisa & Cult Jam, Backstreet Boys, N'Sync] who shopped his demos to a circuit of record labels, and produced his song, "Mouse in the House," featured on the Stuart Little soundtrack.

The initial persistence didn't quite evolve into the expected success, but that didn't stop Colby from continuing down his desired path. Both he and his family were committed to making this dream happen. "I remember how hungry I was back then, and I'm even hungrier today," states Colby. "I'm so thankful to have such supportive parents as well as a sister who helped to pay for my guitar lessons, which is a big part of what I do."

Colby's formal music training with the guitar under the tutelage of Johan Oiested, a player in Carlos Santana's rhythm section, has transformed him into a virtual musical threat. He's also learned to play the piano, and is a true showman who has strengthened his dancing and stage presentation, and had one-time even considered signing a recording deal with singer-songwriter Babyface—until a career-altering meeting with Akon occurred. Akon was immediately impressed with the young prodigy, and the rest as they say is history in the making.

Colby has been producing music since the age of 12, further allowing his collaborations with Akon to stand out more. His debut album has pretty much been a self-contained effort, with the lion's share of writing and production done primarily between him and Akon. "We've recorded so many songs for this project—maybe forty or so—it was hard to get it down to a manageable number," says Colby. "The writing process has been so much fun, and it has been great working with Akon. On the real, he is a very humble guy."

Together the pair has created a collection of songs that Akon says are "beyond definition…we are doing whatever is hot," says Akon. "Colby is my secret weapon." Listeners will find those words to ring true after checking out such guaranteed smashes like "Sophisticated Bad Girl," and "Don't Turn Back." Colby would say, though, that the music has elements of R&B, Pop, Hip-Hop, even Latin guitar flavors. "My shows will include all of these styles," says Colby. "Performing and entertaining is what I live for. I want to be able to show the fans that I'm a 'real' musician as well as a singer and dancer.

Colby will get that chance sooner than later—with artists such as Michael Jackson, Usher and Justin Timberlake cited as some of his idols, audiences are hungry for a fresh talent who can take up the mantle of those aforementioned superstars.

Colby O'Donis is primed and ready to answer the call!
---