Clear Touch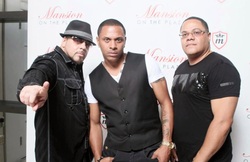 Born and raised in the Bronx, John Sanchez, KC Rodriguez and Angel Solis formed Clear Touch.

The success of Clear Touch began in the Mid 90's when their hits from their self-titled album "Surrender Your Love" and "Fallen Angel" hit the Billboard music charts. "Surrender" topped the charts in only a matter of weeks.

On a different side of this artistic spectrum, Clear Touch can be seen in the movie "Living in Paradise". They have performed at the legendary Apollo Theater in Harlem as well as performed The National Anthem at Major Sports Events including live on HBO for the Michael Grant and Andrew Golata Fight, The New York Yankees, New York Knicks, New York Nets, and New Jersey Red Dogs.

Clear Touch is back by popular demand and is ready to captivate listeners of all ages. The trio is ready to once again bring back Freestyle Harmonic melodies to the genre.
---