Cascada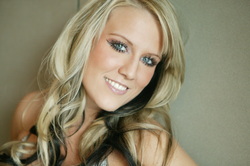 Cascada is making a sharp impression on the American charts with her hit single "Everytime We Touch" from the debut album of the same name. With its aggressive and energetic dance-pop beat, "Everytime We Touch" stands out from its Top 40 counterparts. Cascada's dramatic and passionate vocals add a fine polish to the package alongside DJ/producers, DJ Manian and Yanou, who provide the musical backing. "Everytime We Touch" has been impressing CHR/Pop radio stations across the country climbing up their play lists, even on stations that usually turn down dance songs. It's a bright contrast to all the rap and R&B dominating radio, and music listeners are taking notice.

"I think the track´s popularity in America is amazing!" says the German/British born Cascada. "It's so wonderful how people connect to it, they seem to identify with the words of the song and feel the song as I do. I imagine English speakers have the advantage of really understanding the words, so it's also easier for them to sing along! But I can't really explain why Americans enjoy the song so much, I just know I'm loving every minute of it!" The producers Yanou and Manian had first noticed the song, originally done by Scottish vocalist Maggie Reilly, and decided to re-do it. They kept the chorus but changed the verses, and Cascada really personalized it with her vocal interpretation.

Cascada was born Natalie Horler in Bonn, Germany on September 23, 1981, and is of English descent. As she explains it, "As my parents had moved from England to Germany a year earlier, I grew up here with them and my two sisters and still enjoyed a very English childhood. My mother Christine is a foreign language teacher and my father David is a jazz musician with the WDR Big Band in Cologne. It is, of course, from him that I've inherited my passion for music. He taught himself everything he knows from a young age and has made such an enormous success of himself that I can only hope to achieve what he has today. When I was very young I would often do recordings in my father's studio at home, a lot of the time jazz and Disney songs. I could never really say when I started singing. I just enjoyed it so much, that I knew at a very, very early age that I wanted to be a singer. Apart from singing, I've always taken different kinds of dancing lessons, like step dance, jazz dance, hip-hop and street dance, and have acted in a few amateur plays as a teenager. As my father often directed the music of these plays, I also helped him with the vocal recordings and rehearsals. Next to dance music, I also love soul music and due to my father, I love jazz."

When asked who she admires, Natalie answers, "I admire just about anyone who has a set of vocals to die for! Really, it doesn't matter who it is; if it's Alicia Keyes, Mariah Carey, Lauryn Hill, Boyz II Men or just someone I happen to hear singing gospel music in church-- I'll listen and love it! At eighteen I started doing studio work. Here and there I'd record some tracks for different DJs. That's how I ended up meeting Manuel Reuter (DJ Manian) and Yann (Yanou). We did a couple of songs and they soon became quite successful."

Among those recordings was Cascada's first single "Miracle" which was released in Germany in March 2004. It would go on to be a success in that country and consequently grab the attention of Robbins Entertainment, the American label responsible for breaking European club and rhythmic artists like DJ Sammy, Lasgo, Ian Van Dahl, Narcotic Thrust and D.H.T. onto the US pop market. In November of that same year, a maxi-single of the song was released in America. Cascada would go on to release three more singles in Germany: "Bad Boy," "Everytime We Touch," and a cover of the 1992 Roxette song "How Do You Do!"

The full album, also titled Everytime We Touch, features 14 diverse cuts, including all four singles as well as covers of Savage Garden's "Truly Madly Deeply" and Kim Wilde's new wave nugget "Kids In America." "I cannot wait to hear people's reactions to the album!" says Natalie. "It´s loaded with really great, upbeat Cascada-style tracks including two or three ballads also. I'm absolutely in love with a certain track called "Another You" which Yann wrote and I sincerely hope the fans love it (and the others as well!) as much as I do."

A new music video of "Everytime We Touch," features Natalie in a library trying to loosen up her uptight librarian boyfriend, and ends up creating a musical ruckus in the process with the library patrons dancing on top of tables. The video is being added into rotation at MTV Hits and other national outlets and can also been seen at Robbins Entertainment's website.
Cascada has been busy touring America as well as Austria, Ireland and Germany. She has been impressing crowds and getting great reviews. USA Today (3/1/06) says "you couldn't ask for a more insanely infectious concoction" while the New York Times (3/2/06) says, "a bright female voice, a hard and ruthless beat, a tune catchy enough to ruin your day…She is, in this country, a world-music singer, and a reminder that world music doesn't always sound like 'world music' Despite its cheerful tune and thumping beat — no, because of those things — 'Everytime We Touch' just might be the most exotic-sounding song in the Top 40."

As Natalie puts it: "It'sfantastic that you guys like listening and partying to my music. I hope DJ Manian, Yanou and I can continue to put smiles on your faces, can't wait to see you at the upcoming shows! Performing for such great fans is so much fun and makes all the hard work worth it!" And with the success of "Everytime We Touch," may the musical good times continue!
---