Carla Facciolo - Mob Wives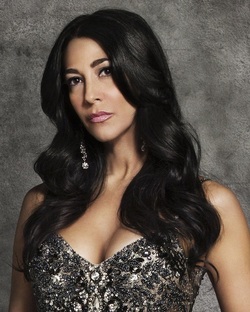 The Brooklyn belle of VH1's hit show, "Mob Wives", was born and raised in Bergen Beach, Brooklyn, with her parents and two sisters. During Carla Facciolo's teenage years, her father was incarcerated and she would soon after learn about her family's affiliation with the Mob, and it's repercussions. Her uncle was murdered during his involvement with the Lucchese crime family. Though Carla had grown an early liking to "street guys", with two important men being stripped from Carla's life, she was committed to finding a significant other with zero ties to the Mob lifestyle.

Later in life, Facciolo obtained a position on Wall Street, where she would meet her future husband, Joseph Ferragamo. Carla and Joseph wed in 2000 and had their first children, boy and girl twins, in 2002. She was assured her new family life would not involve prison, but she was mistaken. In 2004, Joseph was convicted of stock fraud and was sentenced to six years in prison.

Carla was left to raise their two children alone, and began to see her life heading in the same direction of the many women she had grown up with. She often says family means everything to her, and without the help of her mother and father during Joseph's incarceration, she doesn't know where she would be today.

The proud mother of two is now co-starring in VH1′s reality show "Mob Wives", where she is known as the subtle 'sex kitten' of the group. Carla now plans to take her career to the next level, with hopes of designing her own line of everyday and athletic womenswear clothing. On her down time, Carla loves to whip up quick, hardy and wholesome meals for her family and has hopes to publish a cookbook in the near future. Carla Facciolo has set her bar high and is devoted to making a better life for her children.
---