Cara Wakelin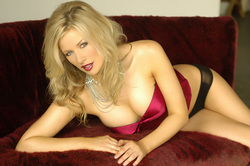 So you wanna know more about me?? Here is my story...I was born in Williamstown, Melbourne, Australia and am one of two survivors of quadruplets: my surviving fraternal twin Bain, and I made it, but both of our identical twins did not. There have been many times where I have felt that my identical twin watches over me to this day. My twin and I have always been opposites: me as the "good", law-abiding citizen who stressed upon getting an education, and my twin as the breaker of every rule and who heavily relied on his street-smarts to get by. Over the years I have developed some pretty strong legs from all the fighting we did!!

Growing up in my family was full of ups and downs to say the least. My mom raised us on her own in Ontario Canada, and money was always an issue in our family because we never had any. Going to school with the stress of not knowing if we would be evicted was very difficult for me. After my mom's divorce we were homeless and I would stay with friends, but we hit bottom when we were living in our van. I think we were forced to move a total of 15 times in 10 years. I felt like an outsider as a kid- shy and quiet, even anti-social at times. But I knew that an education was the only way out of the poverty I grew up in.

I attended Etobicoke School of the Arts- a gifted arts high-school that developed individual talent- mine was visual arts and dance. I have been drawing depictions of nature and animals since i was 3 years old. My love for animals was evident in our home too. My pets included: frogs, lizards, fish, rabbits, mice, gerbils, guinea pigs, birds, cats, a dog!! As a child I related better to animals than to humans!!

My favorite childhood memories are when I was up at my step-father's cottage in Muskoka, Ontario. I would spend all day swimming in the lake with my dog "Girl", and loved to bass fish and go on adventures in the woods with my brothers. I still go up there every summer, but now I hang with my friends in the boat during the day and go to the bars at night in my sweats!!

So where does Playboy fit in you ask? Well, it happened during my last year of McMaster University, where I graduated with a philosophy and sociology degree. I was flipping through my former boyfriend's Playboy magazine when I discovered that they were having a bus search to find the millennium Playmate. I had a huge student loan and that was incentive enough for me to audition when they came to Toronto in 1998. I was sooo nervous because I have never been comfortable naked, let alone being naked in front of other people!! But sometimes you just have to face your fears and go for it!! I couldn't believe it when I received the phone call that Playboy wanted me to do a test shoot in Chicago!! Can you believe that Hef rejected my first centerfold because there were too many peanuts on the floor on my set?! Obviously the second centerfold was accepted and I was introduced as Miss November 1999. Hef even decided to put me on the cover in Canada (he's only done this once before) and every magazine was sold out within two weeks! I think it was because I was wearing a hockey jersey!! I was an instant celebrity in Canada overnight, and being in the spotlight was a very hard adjustment to make for me. I was recognized everywhere and was in the newspaper everyday!

Working for Playboy has been the most amazing and unique experience of my life. I have been able to travel all over the world- U.S., Russia, Japan, and Chile to name a few. I have been a guest on David Letterman, John McEnroe Show, and Howard Stern and most recently was on the cover of Playboy's first ever 2005 swimsuit calendar. One of my favourite Playboy memories was being part of Playboy's 50th Anniversary Tour, where we traveled to 50 cities in 4 months on a tour bus!! And of course who could forget the mansion parties!! All I can say is that everything they say that happens at the parties do happen....and much more!!! Playboy really has been my second family while living in the U.S.

I'm currently living between Los Angeles and Toronto and my life doesn't seem to be slowing down anytime soon!! Along with working for Playboy, I have been acting for a few years- another passion of mine. I have been very lucky in the industry and have had some great opportunities. Although I don't know what is in store for me in the future, I do know that as long as I live my life with an open mind and heart, I will be successful and happy wherever i am and with whatever I'm doing!!
---