Bruce Buffer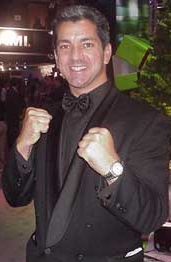 Bruce Buffer is known around the world as the Official Octagon Announcer for the Ultimate Fighting Championship (UFC) along with many other mixed martial arts events internationally. The UFC is seen worldwide, live on Cable and Satellite TV throughout the year. It is also one of the most highly rented non-entertainment videotapes in stores. Its popularity is huge in countries such as Brazil, Japan and many parts of Europe, as is Mr. Buffer's image as the announcer for the event. He is a featured character, as himself and as a fighter in the Ultimate Fighting Championship video game franchise by CRAVE Entertainment is also the model and voice for the boxing character Tony T. in the popular Ready 2 Rumble Boxing Round 2 video game by Midway.

During sweeps week in May 1997, Mr. Buffer co-starred as himself with Robin Williams and Billy Crystal on NBC's top ten TV show "FRIENDS". He also appeared alongside Antonio Banderas in the motion picture "Play it to the Bone", which was released in January 2000.

Bruce Buffer is a proven motivational speaker and is President and CEO of Buffer Enterprises, Inc., through which he manages and runs all his entrepreneurial ventures. He has received praise from top industry professionals for his management and guidance of the successful career of his brother Michael Buffer, the world famous sports and entertainment announcer. He also creates, designs and handles all product and promotion licensing surrounding the world famous "LET'S GET READY TO RUMBLE®" trademark, which has grown into a major international enterprise surpassing $120,000,000 in retail sales during 1999-2001.

Bruce Buffer has been responsible for expanding Michael Buffer and his world renowned trademark "LET'S GET READY TO RUMBLE!"® into all areas of sports, entertainment and merchandising. Some examples of the many successful licensing ventures he has been responsible for developing and/or creating are the "Ready 2 Rumble Boxing" video game franchise by Midway, Rumble Robots by Trendmasters, the "Ready 2 Rumble Electronic Boxing Ring" by Manly Toy Quest, WCW Wrestling toys by ToyBiz and the "Ready to Rumble" movie by Warner Bros. released in 2000.

Millions of fans around the world have seen Michael Buffer announcing major events such as Championship Boxing, WCW Wrestling, the NBA Championship Finals, the NFL Championships, the NHL Finals, the Indy 500 and the Major League Baseball World Series. Bruce Buffer states that, "My future plans for Michael's and my career are explosive! I've only touched on the possibilities. There is a lot more to come, I promise."

One of his favorite films is "JERRY MAGUIRE" starring Tom Cruise. Bruce states, "I live and breathe this every day. Some people say show me the money! I say show me the Rumble!"

Bruce Buffer is best classified as a true entrepreneur, entertainer and motivational individual who loves to keep the viewing public attentive and excited about the product or event he represents. He is also well known for starting off international events with his infamous phrase, "IT'S TIME... TO BEGIN...!"
---