Brooke Hogan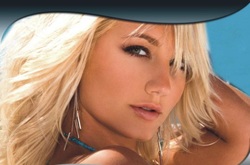 Brooke Ellen Bollea (born May 5,1 1988 in Tampa, Florida), better known by her stage name, Brooke Hogan, is a singer and reality television star.

Brooke Hogan is the oldest child of professional wrestling legend Hulk Hogan and his wife Linda Bollea. In addition to Brooke and her parents, the Bollea family includes Nick Hogan.

Brooke gained fame from her appearance on the reality television series Hogan Knows Best, which spotlights her family, and which premiered on July 10, 2005 on VH1 and also on MTV. Brooke is currently pursuing a pop-music career with her parents acting as her managers. Her first song in the United States singles charts was "Everything to Me." Brooke was the first artist signed to Scott Storch's record label Storchaveli. Brooke's debut video premiered on the season two finale of Hogan Knows Best.

Her father is very strict on dating, enforcing stringent restrictions of prospective suitors, as seen on Hogan Knows Best. According to an interview with Hulk Hogan in Maxim magazine, he threw Aaron Carter out of his house after less than an hour after finding Carter to be arrogant and disrespectful. Hulk also placed a GPS tracker on her vehicle that enables him to track her whereabouts and can even remotely shut down the engine of Brooke's car if he feels the need to do so. Brooke dated Chris Glavaris for some time before Hulk Hogan broke the relationship up.

"No one's good enough for my little turnbuckle!"

As the daughter of pro wrestler Hulk Hogan, pop singer Brooke Hogan grew up in a family accustomed to the type of lifestyle that comes with fame, which helped her easily transition into the celeb spotlight of her own making as a teenager. Born and raised in Tampa, FL, Brooke entered the world on May 5, 1988, as Brooke Bollea, the oldest of two children (she has a younger brother, Nick); she would later adopt her father's stage surname of Hogan. Growing up in a home filled with the music of the Isley Brothers, Earth, Wind & Fire,

Whitney Houston, and Toni Braxton, she caught the entertainment bug early, starting piano lessons when she was five. Brooke soon added cheerleading, along with dance and voice classes, to her résumé, and at ten, she decided she was ready (with the help of her parents) to start calling talent agencies.

This led to a modeling contract, and by 15, Brooke had further developed her musical skills enough to land opening slots on tours for Hilary Duff and the Backstreet Boys, as well as singing at a Radio Disney holiday event. She recorded her first charting single, "Everything to Me," in 2004, the same year her family was spotlighted on a VH1 television special. The hour-long show did so well that it was developed into a reality series, Hogan Knows Best. Brooke's road to becoming a pop star (not to mention an actively dating teen overcoming an overprotective father) was concurrently documented alongside the Hogan family's daily life. Soon enough, producer Scott Storch (Justin Timberlake, Christina Aguilera, 50 Cent) approached her about recording a song of his; this led to Brooke being the first artist signed to his label, Storch Music Company (created through a deal with SoBe Entertainment).

Four months of work in Miami together resulted in Brooke's debut dance-pop album, Undiscovered, which included collaborations with Nelly Furtado, Beenie Man, and Cam'ron. The record's first single, "About Us," featured rapper Paul Wall and heated up airwaves upon its release in summer 2006; filming for the third season of Hogan Knows Best began as well. The resulting hype led nicely into Undiscovered's late October arrival.
---